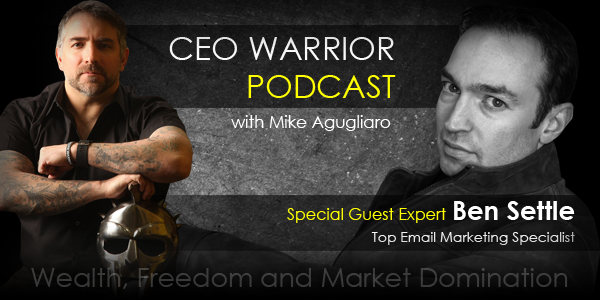 Summary:
In this week's episode of the CEO Warrior Podcast, Mike Agugliaro interviews Ben Settle. Ben helps business owners double their sales by writing emails that people look forward to reading. Ben has pioneered the email marketing message of some of the premier businesses around the world. Ben is a self professed unrepentant slacker and is proud of it.
Main Questions Asked:
What does it mean to be a slacker?

What are people not leveraging with email today?

What is your strategy for writing email?

How can we scale our email efforts?

What are the best and worst practices with email marketing?

What do your emails look like?

What are the most important parts of an email?

What are some of the things you've learned about success?

What should entrepreneurs think about over the next few years?
Key Lessons Learned:
Efficiency
Work smart, putting in 60+ hour work weeks isn't necessarily the path to success.

Your experiences are the fuel for your email writing.

com is a great place to find ideas.
Email Marketing
People have forgotten about direct response marketing which means selling things.

Marketers today are afraid of selling.

Email marketers tend to either not sell at all, or always sell. Both approaches are too extreme.

Selling is about having a conversation with people, offering a solution you know will help.

Email is talk radio. Start talking.

Have a conversation, tell stories, tie them into your audience's life.

Know your list's needs, wants, pain points, what they are afraid of, and you will know what to talk about.

Your list must opt in. Use a service like Aweber, Mailchimp, or Infusionsoft.

Personalize your email, it should look like it was written by you.
Social Media
Facebook has somewhat replaced email.

A Facebook post that creates a dialogue would work great as an email, just include a link to buy.
Scaling
Multiply your efforts.

Turn an email into an article, a video, a podcast, a press release.

Email content can be turned into different formats.
Best/Worst Practices
You should try to email your list once a day.

You'll get more opt outs but will also generate more sales.

Market place positioning is 80% of the battle.

Emailing once a day will position you as an expert and a leader.

Be helpful, build the relationship.

If you want to be in business, you can't be afraid to sell.

Be relevant and your list will always want to hear from you.

Your name in the from line is the most important part. Build trust and stops them from deleting you.

Your subject line will get your email read.

If you have a product or service you believe will help people, it's your duty to tell people about it.

Let your content be the thing that people look forward to, not the bells and whistles.

Keep it simple and user friendly.

Don't focus on what your competitors think, focus on what your customers think.

Don't give up too quickly. It takes a few weeks to see results with virtually everything.
Mindset
You aren't bothering people by emailing them if they want to hear from you.

People are ready to buy at different times, if not now, maybe later.

Consistency trumps proficiency. If you do something everyday you will see improvement.

Pay yourself first in terms of time. The first hour of everyday belongs to you.
Final Tips
Consistency, show up everyday and do the work.

Have a conversation with your list, don't overcomplicate it.

Don't be afraid to sell in your emails.

Give yourself the first hour each day.

If you're giving value with your email, your list won't mind seeing you in the inbox everyday.
Thank you for listening! If you enjoyed this podcast, please subscribe and leave a 5-star rating and review in iTunes!
Links to Reso

urces Mentioned
P.S. – Are you SERIOUS about no longer treading water and MOVE your business forward WARRIOR STYLE? Find out more about Mike's Warrior FAST TRACK Academy!

P.P.S. – Gary says if you want to grow a business, then this is the place to be. Warrior Fast Track Academy Testimonial.