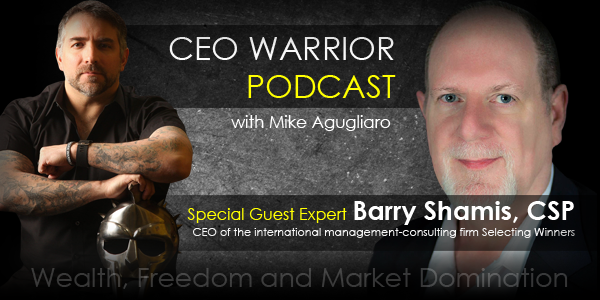 Summary:
In this week's episode of The Secrets of Business Mastery Podcast Mike Agugliaro interviews Barry Shamis who is the CEO of the international management consulting firm Selecting Winners. Barry is also the founder and managing director of the Institute of Executive Selections. He sits on the board of directors of six companies, all of which are dedicated to helping companies hire better people, build winning teams, and improve retention. Barry has worked with hundreds of companies and coached thousands of executives and business owners on the subject of attracting, selecting, and keeping top performers. During this episode Mike and Barry discuss issues with recruiting, hiring, and retaining employees.
Main Questions Asked:
What are the problems when it comes to recruiting, hiring, and keeping employees?
Do business owners know how to identify what type of employees they are looking for?
What is the A to Z formula of recruiting?
Do a lot of employers have limiting beliefs when it comes to recruitment?
How to you retain employees?
Key Lessons Learned:
Interviews
An interview is not reality.
Businesses are simply not prepared and understanding the process and outcomes.
Interview behavior is not predictive of job performance.
There is an issue with interviewers overlaying their personality and aspirations on the interviewee rather than actually listening.
The outgoing interviewee often gets mistakenly hired.
Recruiting
View recruitment this as a strategic piece of your business.
Recruiting is a marketing function.
Businesses compete to acquire new customers and also need to compete to acquire a new employee.
There needs to be a good strategy, approach, and hard work to when sourcing new employee talent.
Good candidates don't need your job. If they are a good hardworking reliable person they will get many offers.
Hiring The Wrong Person
You are always better off with no one than the wrong person.
The wrong person will cost you.
Profile the Successful Person
Build success profile that will be a template for the person you want to hire.
This is the road map for the rest of the hiring process and dictates how you will recruit, interview and hire them.
The Success Profile includes:
What they have to do.
List the results they need to deliver.
How they need to behave.
What skills they need to have.
Top Performers
The reward for top performers is that they get the tough jobs. This is a disincentive.
The impact under-performers have on the moral of the team is catastrophic.
Tips for Recruiting
Take care of the knowledge deficit.
Have one person own the recruiting task. A lot of the time this is the business owner.
Figure out your UHP (unique hiring proposition.)
The UHP answers the interviewees question, 'Why should I work for you?'
The Key to Recruiting
The single key to recruiting is to work backwards.
Figure out where the person you want to hire is right now.
Where do they work, live, congregate, where are they online, and who are their influencers?
Make hiring decisions with as little subjectivity as possible and use as much objective data as possible.
If you are not being strategic and your competitor is who do you think is going to win?
Limiting Beliefs
People give up before they start.
Finding good talent is a war and you have to compete.
Retaining Employees
The single biggest cause of turnover is mishiring.
The number one reason people leave a job is because they never should have been in the job in the first place.
Think about hiring as a win/win.
Hiring has to be a victory of the employer and candidate.
Start to think of employees as partners.
If people find out they can make more money elsewhere they will leave.
If you take advantage of employees in an economic downturn they will leave when better opportunities show up.
Barry's Final Thoughts
The only sustainable competitive advantage in today's world is the quality of you people.
Thank you for listening! If you enjoyed this podcast, please subscribe and leave a 5 star rating and review in iTunes!
Links to Resources Mentioned
Click to Tweet
What are the problems when it comes to recruiting, hiring & keeping employees? Find out w/ Barry Shamis @CEOwarrior https://ceowarrior.com
What is the single key to recruiting? Find out w/ Barry Shamis @CEOwarrior https://ceowarrior.com
P.S. – Are you SERIOUS about no longer treading water and MOVE your business forward WARRIOR STYLE? Find out more about Mike's Warrior FAST TRACK Academy!

P.S.S. – Pauline is sure she can now double her company in the next three years.  Warrior Fast Track Academy Testimonial.