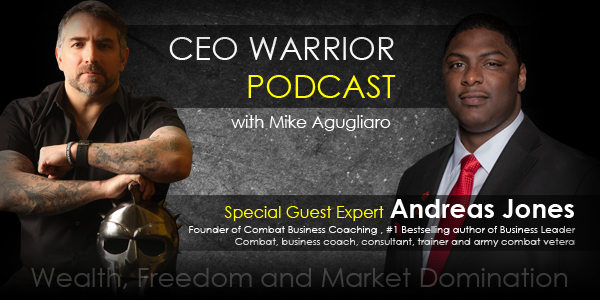 Summary:
In this week's episode of the CEO Warrior Podcast, Mike Agugliaro interviews Andreas Jones. Andreas is the founder of Combat Business Coaching, the number one bestselling author of Business Leader Combat, business coach, trainer, and army combat veteran. Andreas helps business owners grow their business in any economic situation through the lessons he learned in the military.
Main Questions Asked:
Where did you learn leadership?

How should we go about building a plan?

What is fear doing to business owners today and how can they deal with it?

Is leadership optional?

How should we build a team?

What makes communication good or bad?

Why are people afraid of confrontation?

What is the one thing that you want business owners to think about over the next few years?
Key Lessons Learned:
Leadership
The most potent form of leadership is self leadership, guiding your own life to achieve your goals.

Take responsibility and ownership of the hand you're dealt.

The decisions you make are what determine your outcome.

Business is a constant battle to stay innovative and relevant. Without leadership, a business will fall behind.

Retaining talent is a constant threat. Losing and replacing your team all the time will destroy whatever culture you've built. Give your team a greater purpose to keep them involved.

The leader shapes the vision that drives the business and keeps the team motivated.

A thriving business is bigger than you, you have to build a team.

Reward your failures with success, take the lesson and get back up. Use your failures as fuel.
Building a Plan
There are two parts to a plan, the tactical and the strategic.

People will often get lost in the tactics and lose sight of the strategy.

The tactics are the small tasks that get things done, the strategy is the overall vision and direction.

Figure out your end goal, from there you can determine who will be affected and the best way to go about accomplishing it.

You should have a tangible, visible way of tracking progress.
Fear
The only thing that combats fear is taking action.

Find a guide to help you take that first step, someone to hold you accountable.

Fear can lead to regret for the path not taken.

Getting past your fear can be the best decision you make.
Marketing
Information is more widely available than ever. In order to stand out your message has to be more compelling than the competition.

Interrupt, engage, educate, and then offer.
Team Building
Your team's skills should compliment your own.

Be transparent when looking for people to work with, they need to know what they are getting into as well.

Years of experience isn't necessarily an indicator of a good fit.
Communication
A business has a lot of moving parts, making sure everything is on track is done through constant communication.

Your end goal should shape the way you communicate.

You can't expect your team to deliver if you don't tell them your expectations.

Ask yourself "What happens if I don't say something?"

Confrontation doesn't have to be negative, it can be framed as an opportunity to learn.

Partner with your employees, ask them for input.

Bickering is not going to solve a situation.

No excuses, only adjustments.

Having a chain of command empowers your employees to take responsibility for themselves.
Final Tips
Take ownership of the hand you're dealt.

Have no regrets.

Always grow as a leader.

Create a culture tied to a greater vision.

Take the punches and keep getting back up.
Thank you for listening! If you enjoyed this podcast, please subscribe and leave a 5-star rating and review in iTunes!
P.S. – Are you SERIOUS about no longer treading water and MOVE your business forward WARRIOR STYLE? Find out more about Mike's Warrior FAST TRACK Academy!