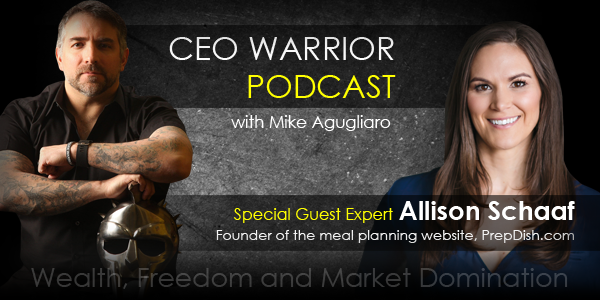 Summary:
In this week's episode of the CEO Warrior Podcast, Mike Agugliaro interviews Allison Schaaf. Allison is the founder of the meal planning website Prepdish.com. Allison has been featured on other great podcasts like Entrepreneur on Fire, Smart Passive Income, and Food Blogger Pro.
Main Questions Asked:
What has been happening in the world of entrepreneurs that makes Prepdish.com so succesful?

How do you streamline choosing what you eat?

How do we create a system that serves customers when we're sleeping?

What are some of the lessons you learned while growing your business?

What are some things in the online world that entrepreneurs should be thinking about?

What have you learned about membership programs?

What have you learned about social media?

What would you say business owners should think about for the next three years?
Key Lessons Learned:
Opportunities
Allison saw an opportunity in the entrepreneur community where a food prep system could be very valuable.

Entrepreneurs and busy people already have a tough time eating properly.

Preparing your food ahead of time is a good system for making sure you eat right throughout the week.

Depending on your available time and level of commitment, there are many different options from meal plans to a personal chef.

Your health is the most major factor on the quality of your life. The food you eat is directly correlated to your health.

Accountability groups can be a good way of holding your feet to the fire and making sure you accomplish your goals.

Invest in your website, your customers will judge your online presence and quality will have a major impact.

Have a plan for being online and understand who your audience is and what they value.

Focus on your big goals and don't let yourself get distracted. Journaling can help you eastablish what you want to get done each day.

Use the pomodoro technique to focus your time specifically. Track your time so you know how much time your are spending on each task.
Meal System
Grocery shopping is the first step, a service like InstaCart make it very efficient.

Prepare every meal for the week at once at the beginning. Batching is much more efficient.
Serving People
Take your skills and knowledge and put them into a format that can be shared online.

Be comfortable hiring out the tasks that will allow you to scale your business.

The more you do, the more you will figure out about how to do it better.

Ask for feedback from your customers, don't be afraid of "bothering" your audience.
Creating a Tribe
Facebook groups are a free and easy way to build a community around your brand. Your community also helps answer customer service questions.

A subscription focused business keeps people on board and will naturally generate referrals.

Don't assume you know what your customers want, ask them.

Treating people like they are valued customers will encourage them to renew their subscription. Send out surveys.

Look for ways to integrate new technology that makes your customer's lives easier.

Nurture your new customers and ease them into your program.

Have a strategy for social media, only invest in platforms that your audience uses and the engagement is worth it. Any opportunity to directly interact with your customer is important.
Final Tips
Have a plan, it's hard to get where you want to go if you don't know how to get there.

Have an understanding of the value of your time.

Don't be nervous about getting feedback from others.

Find passionate people you want to work with and hang on to them.
Links To Resources Mentioned
Thank you for listening! If you enjoyed this podcast, please subscribe and leave a 5-star rating and review in iTunes!
P.S. – If you were waiting for the perfect time to seize this opportunity, the time is now. Read the Home ServiceMAX Magazine for FREE, today!