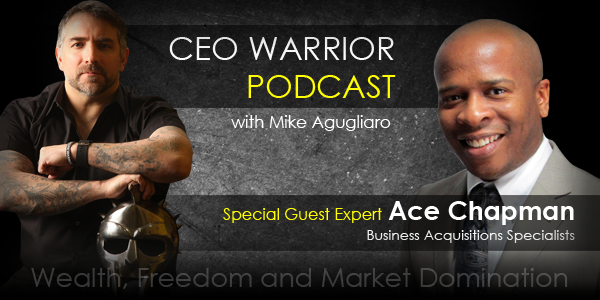 In this week's episode of  CEO Warrior Podcast, Mike Agugliaro interviews Ace Chapman, who is an expert in how to buy and sell businesses and create wealth. Ace is a micro private equity investor who has acquired over fifteen offline businesses, sold thirteen, and also acquired twenty-four online businesses. If you ever thought about buying a business, this is a great podcast for you!
Main Questions Asked:
What were some of the mind games or mental road blocks you experienced?
What are some insights you can give people on what you've learned in selling your first business?
Where does your 'no fear' approach come from?
What holds people back from thinking that buying a business is possible?
Are there any nightmare stories where someone bought a business, but didn't have an expert and it turned bad?
How can adding businesses into your portfolio magnify wealth?
What is the magic piece of advice on growing a business?
If you could start again, what are a couple of things you would do differently?
How can people avoid 'getting bored' in their business?
What are the first three things someone should do when buying a business?
What should we think about when selling a business?
Key Lessons Learned:
In the business world today, you have a few options such as work for a company, start your own business, or buy a business.
Two million baby boomers own businesses in the U.S., and a lot of them are looking for buyers but there aren't enough buyers.
When you are working with a mentor or expert, it helps people control their emotion and 'jump in' reflex.
Buying a Business vs. Starting a Business
There is little awareness and conversation around buying businesses, as it is mostly around staring new businesses.
Even though there is a solid supply of businesses, when it comes to entrepreneurship and business ownership 99.9% of the conversation is about starting from scratch.
Often buying an existing business is simply not part of the awareness.
People think that if you start a business from scratch with low money up front then it is cheap, but it's actually more expensive than buying an established business.
If you can become a professional at finding really great deals instead of starting a business from scratch, then you can attract a lot of money.
If you buy a business that has already been around for a number of years, then that business has already broken past the 'five year failure rate' point.
Buying a Business
The biggest problem with starting a business from scratch is that you have to be amazing at everything: tech, finance, marketing, and sales. But when you buy a business, you can match your skills with what the existing business is lacking.
The average person does due diligence on 6.5 businesses before they buy one.
One of the problems in buying a business is that people get stuck on one deal and don't look at enough deals.
As a broker, Ace looks at a lot more businesses than the average person would on their own. His clients look at an average of 100 businesses before closing on one.
Something that people overlook when buying new businesses is spending time to find a motivated seller.
Ace says that he finds a lot of deals through referrals from divorce. This is an example of a motivated seller, as they often just want to get out of the business quickly.
Magnifying Wealth
When it comes to building the dealmaker skill set, it becomes a long-term view of your return.
As a business broker, Ace likes to see a business buyer get their money back within two years.
Businesses are purchased at two times earnings (sales price is 2X annual cash flow). This means that even if you make a mistake in buying a business, it allows you to make up for any mistakes quickly.
These numbers allow you to build equity as over the course of 2 years if you are paying the business down. Then you can take the cash flow and invest elsewhere.
Ace likes 'roll ups,' which is buying up competitors in the market and then grow the business through acquisition. This creates a snowball effect.
Advice on Growing a Business a
Have a trackable time and results system so you can match the time input and money.
As a business broker, Ace tries to build and buy businesses that fit into the entrepreneur's personality and how they are naturally built.
It is best to come up with a wealth building strategy in line with who the entrepreneurs are on a natural level.
Selling your business
Set your business apart from everything else on the market, as it will have a big impact on the buyer.
Have systems in place. Most businesses don't have operation systems documented to hand over to a potential buyer. If you create a franchise-like system, then this will set you apart.
When you can not only answer questions but let the buyer know there is a resource that will help with selling, you will be able to sell your business at a premium.
2 click to tweet links (clicktotweet.com)
Thought about buying a business but don't know where to start? Find out w/ @acechapman & @Service_Key https://secretsofbusinessmastery.com/
What are pros & cons of buying a business vs starting a business? Find out w/ @acechapman @Service_Key https://secretsofbusinessmastery.com