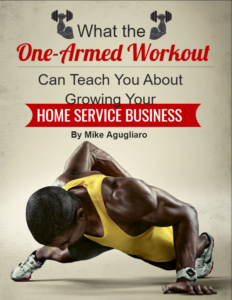 Imagine a weightlifter with Schwarzenegger-sized muscles… only on the right side of his body. He only works out the one side of his body, so his right arm and right leg are massive while his left arm and left leg remain average.
This person wouldn't seem like an imposing wall of muscle – they'd seem like a cartoon character. Someone we'd laugh at because of their comical lop-sidedness.
As silly as this sounds from a weightlifting perspective, this is exactly what's happening in service business everywhere.
Growing Your Home Service Business Is Good… But Are You Focused On The Right Things?
Growing your home service business is smart: you're able to help more homeowners, employ a bigger team, create a positive impact in your community, and build your personal wealth. The benefits are obvious.
But what's less obvious is HOW to do it. HOW do you grow your business?
You might have some actionable ideas already, such as a need to increase your marketing or get more referrals. But simply listing out these ideas and trying to implement them can actually be a problem! You could end up growing your business only in the ways that you can think of, while you miss out on many other ways that are just beyond your awareness. And surprisingly, this can result in a "lop-sided" business that grows too much in one way and not enough in another way.
So let's take a step back to gain a higher level view on the strategy of growing your business. This approach helps you to spot many more growth opportunities that you may not have been aware of.
Although you can probably list out many practical actions that could lead to business growth, there are actually only four ways to grow your business – and each of the practical actions you're thinking of can be filed into these four high-level strategies.
Growth Strategy #1. Increase The Number Of Customers
This is what most service business owners think of when they think of growing their business. With this strategy, you're marketing to potential new customers or you're trying to get your customers to refer their friends and family to you. It might include such actions as:
Increasing your direct mail marketing

Building an online presence to attract website visitors

Creating a social presence

Offering a referral incentive for customers who refer their friends

Developing a public relations (PR) strategy
This is the most common way to grow your business but there are other ways to grow your business as well…
Growth Strategy #2. Increase The Average Transaction Value
In this strategy, you make more money on every invoice. It's not just a matter of raising your prices (that's one strategy, and maybe the first one you think of, but it's not the only one).
Raise your prices

Create upsells (such as bronze, silver, and gold packages)

Offer ancillary purchases (such as environmentally friendly drain line products with every drain cleanout)

Offer discounts on bulk purchases

Offer memberships
The goal is simple: get customers to spend more on every transaction. And the simplest way to do that is to ethically offer them products and services that truly SERVE them.
Growth Strategy #3. Increase The Frequency of Purchase
In this strategy, you increase how often a customer buys from you. So if they buy a duct cleaning just once a year, then you try to offer them services that will have you coming back twice a year or more.
Offer membership where multiple visits per year is expected

Promote seasonal preparation services (such as a "get your house ready for winter" service)

Have your call center following up with customers regularly
Create opportunities for your experts to go back to your customer's homes more often, so you can serve them regularly. (This frequency helps to establish YOU as the go-to experts in your customer's minds as well).
Growth Strategy #4. Increase The Lines Of Business
In this strategy, you have more to offer customers. I think this is a massive trend in the service business today, since customers want to pick up the phone and have ONE trusted company they can call for all of their home service needs. Add services like…
Plumbing

Electrical

HVAC

Bathroom installs

Water heaters

Filtration units

Generators
Extend your lines of business so you have more to offer your customers
Summary
Growing your home service business is good but if you focus only on the few strategies that first come to mind, you'll end up with a lop-sided business. Grow your WHOLE business by using all four of these growth strategies.