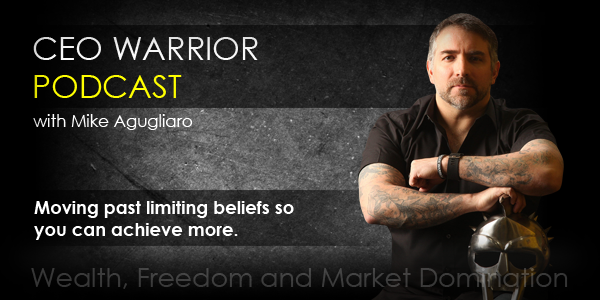 Summary:
Mike Agugliaro discusses the power of beliefs in shaping your perspective and your world. He talks about motivating yourself and those around you by identifying the beliefs in your operating system that are holding you back from achieving excellence in your life, and replacing them with beliefs that serve you and your mission.
Greater, bigger, larger, done!
Key Lessons Learned:
Beliefs and Mindset
When changes occur on the world scale or otherwise, it's opportunity for you to improve.

You have five core pillars that shape how you see everything in your life.

Your health, without health you will lack energy. Good health is a choice.

Your beliefs, the lens through which you see things.

Your relationships with the people around you.

Your wealth, is making money easy or hard?

Your freedom, how restricted your choices are.

You have a choice to do things by design or by default.

Your beliefs are the operating system you run your life with, what you think is good or bad and how they determine your decisions. They're are determined by the results you've had in the past.

It's difficult to make changes in your life without understanding why you got to where you are right now.

Skills are not enough.

You can either add new beliefs or remove bad ones.

Your experiences in life become the programs that run your life. You have to identify everything you do and say that doesn't serve you and help you achieve your goals.

Your negative beliefs will show up as tension somewhere in your body.

The world will try to define you and keep reinforcing those definitions. You can define yourself.

Whatever you focus on will expand, good or bad.

You have to replace your limiting beliefs with positive ones that drive you forward. You can't live with two opposing beliefs at the same time. It's impossible to love and be grateful simultaneously.

Write down the beliefs you have and the beliefs you want instead.
Motivation
You can only temporarily motivate someone else, motivation is an internal process.

Are things being done "to" you or "for" you?

Most successful people don't spend much time watching television, they want to avoid being programmed by the stories and marketing.

You can't force a negative belief out of someone else.
Thank you for listening! If you enjoyed this podcast, please subscribe and leave a 5-star rating and review in iTunes!