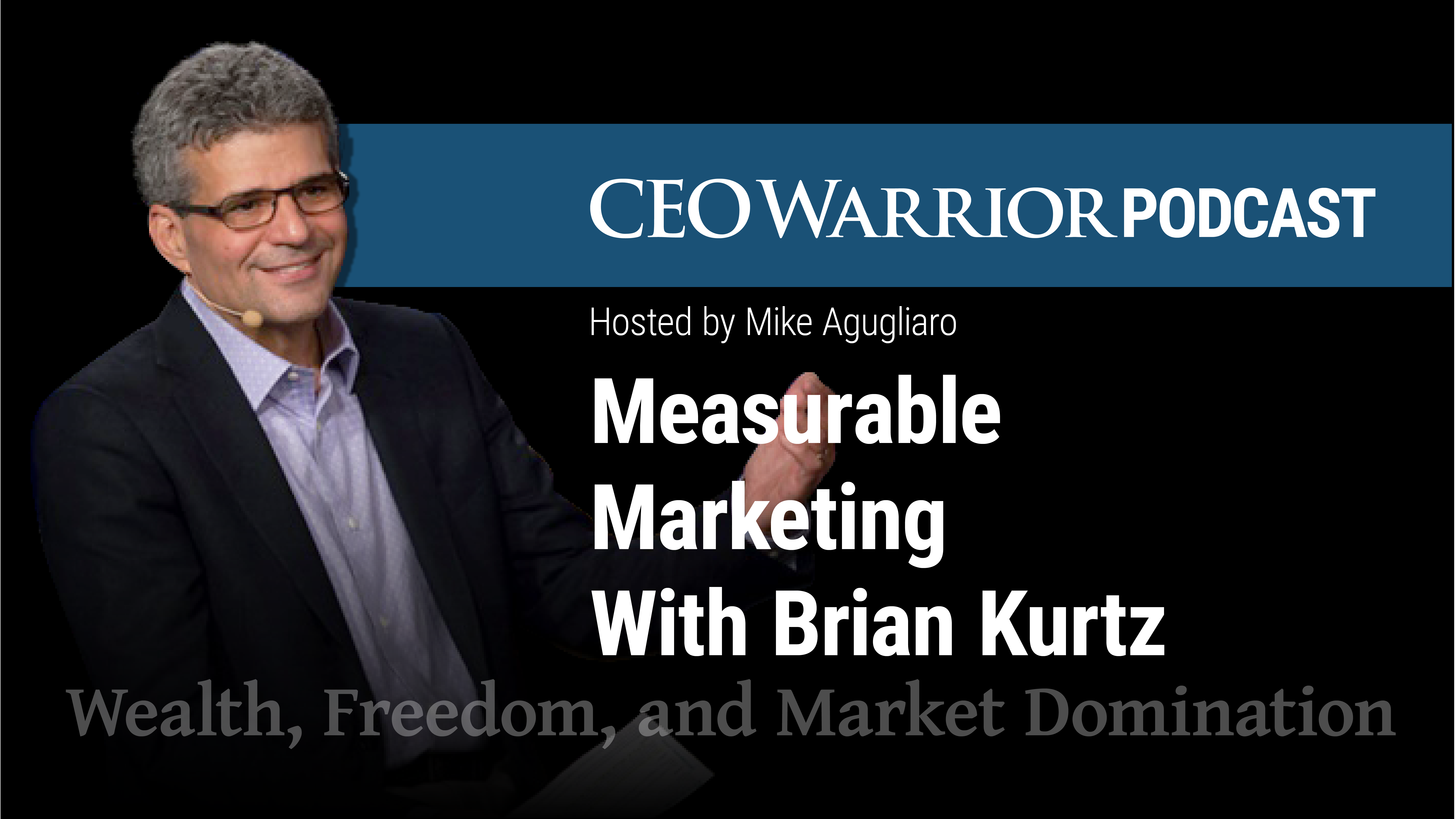 Summary:
Brian helped Boardroom Inc create tens of millions in revenue from mastering the skill of direct response marketing and measuring your results.
We dive deep into how businesses need to approach measurable marketing from the perspective of their audience, why you should diversify your marketing efforts, and how to turn words into revenue.
Main Questions Asked:
What is direct response and why do words matter?
How much money are people wasting today on their marketing?
Key Lessons Learned:
Measurable Marketing
There are two different times and that's it. Now, and not now.
There are three main things that create success: marketing is number one, sales is number two, and last but not least, leadership is number three.
Measurable marketing isn't everything, it's the only thing.
You need to be able to sell and market in the comfort zone you've built. You can't just sit there and wait for people to come to your website and business, you need to go out there and find them while tracking your results.
Diversifying your marketing is crucial, just like in financial planning.
Being too reliant on a single platform or method to generate business makes you vulnerable.
If you have this great mission and want to share it with the world, why would you want to share it with dozens of people instead of millions?
You have to be very conscious of how much of your business is reliant on someone else's platform.
Big businesses understand the value of copywriting but small businesses usually have no idea.
Direct response marketing has three major components known as the 40/40/20 rule. 40% of a campaign's success is based on the list, 40% is based on the offer, and 20% is based on the copy.
If you have a perfect list and a great offer, but the copy sucks your results will decrease drastically. Great copy is the force multiplier.
The trades can easily be defined as a commodity which means the only difference between you and your competitors is price. You have to tell your story if you don't want to be commoditized.
The election of Donald Trump should be studied as a marketing case study for the ages. He used the words of the people on his list in order to communicate with them.
Read the books your audience buys and spend time online where your audience hangs out and observe the words being used then incorporate them into your marketing.
Design can get in the way of your marketing, ugly sells.
Final Tips
Words matter when it comes to marketing, don't let bad copy ruin a great offer!
Find out what your audience is saying, how they speak, and use that language to communicate with them.
Don't leave your business vulnerable by relying too much on a platform that you don't control. Direct response marketing is the key!
Get out the Service Business Edge event!
Links To Resources Mentioned
Thank you for listening! If you enjoyed this podcast, please subscribe and leave a 5-star rating and review in iTunes!