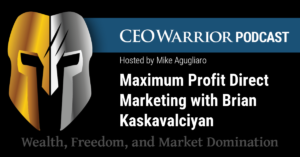 Brian Kaskavalciyan joins Mike Agugliaro to talk about maximizing your profits in your service business using direct marketing. Find out how to keep your customers happy, get them to buy more often, increase the dollar value of every sale, and double your income in record time.
Key Lessons Learned:
Direct Marketing
The service business is relatively simple to market, the customer has a problem now and they need a solution now.
Marketing your business is essentially about creating customers, keeping customers, and multiplying customers.
To be an effective marketer of plumbing/HVAC solutions you need to be where your customers are looking for a solution, provide them a customer experience that they will love, and do everything you can to nurture and protect that customer.
Your competition wants your customers, which is why you have to protect them fiercely.
There are four ways to increase your sales and profits: get new customers, increase the average transaction value of each sale, get your customers to buy more often, and increase the average buying lifetime value of a customer.
Acquiring customers is the most expensive and risky way to grow your business. Most businesses are obsessed with getting new customers, but without a system to protect those customers, they could leave your business like a hole in a leaky bucket.
What is the Lifetime Profit Value of your average customer? The more money you get out of a customer, the more money you can spend to acquire a customer.
If you don't commit to creating long term relationships with your customers, you are throwing away your potential profits.
One of the best things you can do as a business owner is shop your own business from the perspective of a customer.
Walt Disney's Law of Unlimited Abundance: "Do what you do so well, that when people see you do it, they want to see you do it again, and will bring others to see you do it."
Upsells, cross-sells, price strategies, and adding value are ways you can increase your average sale. Many companies are afraid to charge the right price in order to earn the right profit. You should be earning a minimum of 10%-15% profit in your business.
Who do you have to become in order to earn the right to premium pricing?
Educate the customer about the other services you offer, every time you get the customer to return it increases the likelihood of them returning again and again. Getting that second sale is crucial.
You must always be reminding your customers who you are, all the solutions you provide, the benefits of working with you, and how to get a hold of you. Consistency is key.
Physical newsletters are extremely powerful for staying in touch and on top of mind. Make sure your newsletter doesn't have an agenda behind it.
Take a multichannel approach to direct marketing. You can't rely on just one channel.
There is a fine line between staying in touch and making people mad, you should be trying to engage them and creating a two way conversation.
You have to evaluate the return on investment on each of your direct marketing methods. With knowing the ROI, how can you course correct?
If your sending your customers gifts, are you giving them what they want or is it something generic.
Direct mail is still one of the best direct marketing methods you can use to grow your business.
Links To Resources Mentioned
305-856-8788
Thank you for listening! If you enjoyed this podcast, please subscribe and leave a 5-star rating and review in iTunes!