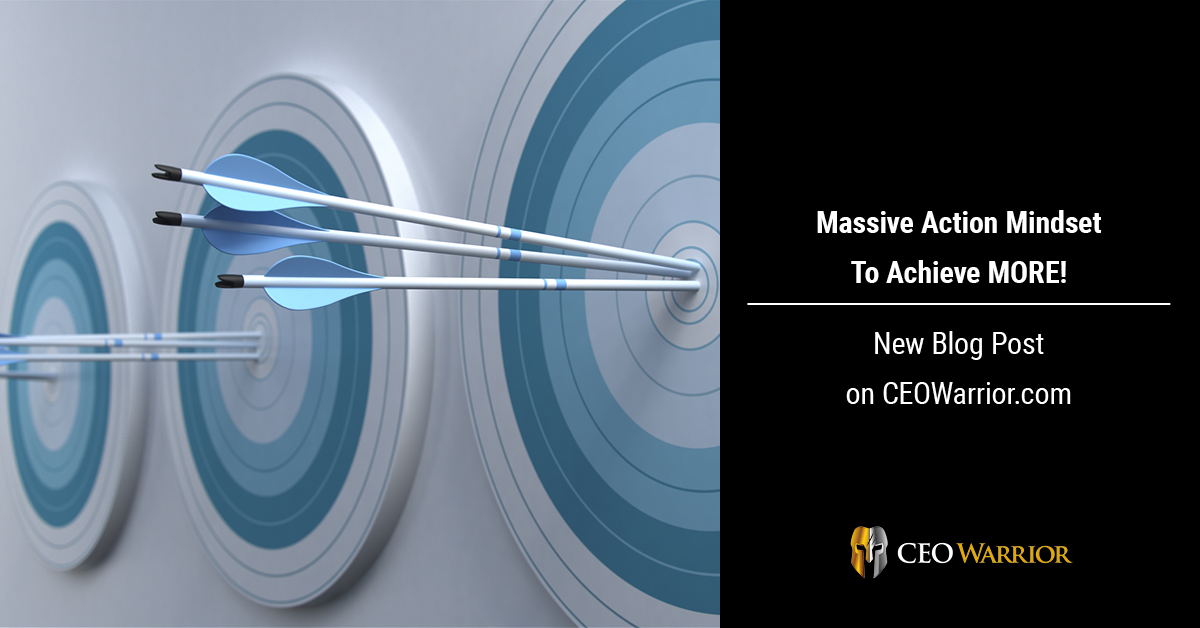 As a service business owner, there are a lot of things you must do each day. How can you possibly get everything done?
Many service business owners find that they work long hours and can't seem to juggle everything… yet what if we told you that you can probably accomplish more in your day than you realize?
It's true! Most people think they work hard but aren't taking the massive actions they could be taking. (And some will be offended that we've even suggested this: they'll say, "But, I'm working SO HARD.") Well, you might be working hard, or you might only feel like you are… chances are, you can take a lot more action and still not put in the exhausting hours that you are currently doing.
Massive action mindset is a special mindset of the unstoppable Warrior and when you adopt that mindset, you won't believe what you can accomplish!
At CEO Warrior, our focus is to stretch business owners and turn them into powerful Warriors in business and life.
Warrior Circle members are taught, inspired, and stretched to take massive action in every area of their life, and they're given the tools and resources to truly take that massive action like never before.
In recent years, the Warrior Circle was given a month-long challenge to see who could perform at the highest level of action. We called it the "Massive Action Grenade Challenge" because the winner receives the monthly coveted prize of a grenade, symbolizing the explosive growth they get when they implement the lessons of the challenge.
Throughout the month, Warriors set benchmarks and were given tasks to complete. From simply completing more work themselves in a given time period to properly delegating work to other people so that more work got done—with Warriors doing the "Warrior work" and their employees doing all other work—Warriors discovered what it took to say they took massive daily action toward their goals and targets.
When you work on your action-taking skills with this much focus, your business (and life!) can't help but grow. Many of the Warriors who participated in that challenge reported back the positive benefits they discovered as they pushed themselves for an entire month.
By the end of the month, based on a number of factors, we were proud to award David Hirst, owner of Dear Services with the coveted Warrior Grenade award for his active participation and proven progress during the Warrior leadership challenge.
David Hirst proved himself to be a massive action taker and worthy of the Warrior Grenade award by actively participating in the challenges, pushing himself outside of his comfort zone to become a better leader, and leading his business to higher growth thanks to his action-taking skills.
The CEO Warrior team is proud of all Warriors for proving just how powerful they can become when they get laser-focused on growing one skill-set. and taking massive action.
Want to learn to take massive action? Here are 3 Warrior steps to get you moving forward…
1 – Set targets for what you want to accomplish each day and work on only those targets throughout the day.
2 – Determine what is "Warrior's work" (high-value work that you can do) versus "Mule work" (low-value work that you can delegate). Get really honest with yourself about what work you are doing versus what work you should be doing.
3 – Go to ServiceBusinessLive.com to learn more about our 3-day training. We go deep into how to take massive action and many service business owners report a powerful change in how much work they can accomplish when they apply the tools and strategies they learn at Service Business Live. See you soon!