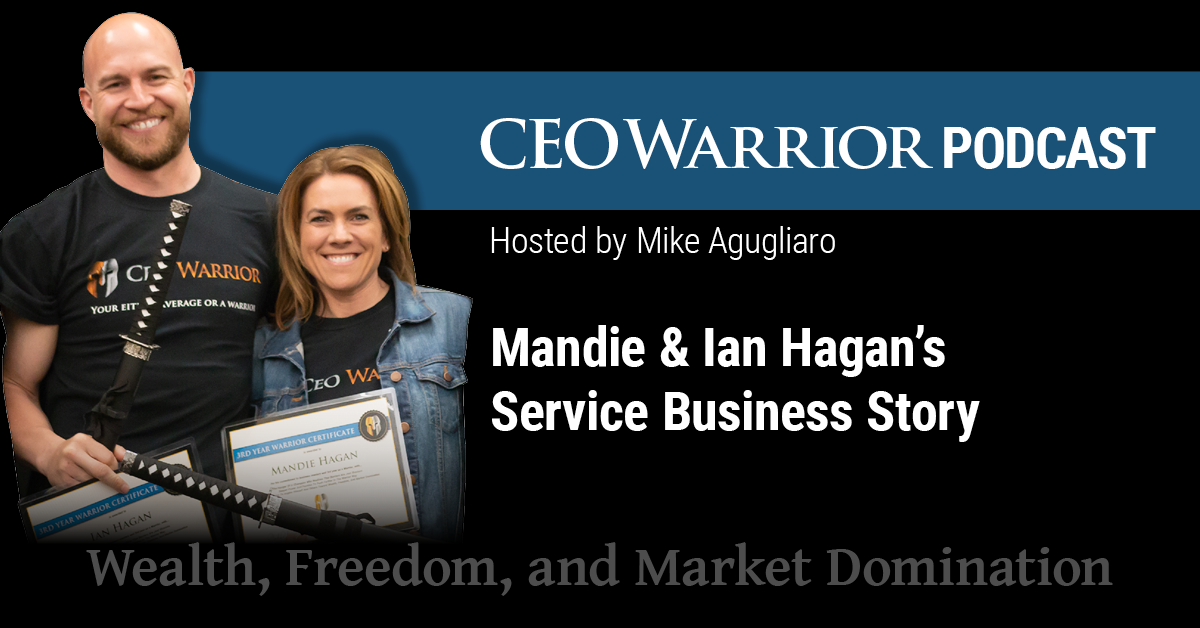 Mike Agugliaro talks to Mandie and Ian Hagan of  Rowell's Services about how they've built up their service business, their experience in the Warrior program, and how their life and business has transformed since joining the program.
Questions Asked:
What was it like for the last five years before you joined CEO Warrior?
How did you find CEO Warrior?
How did you feel the first day of the Service Business Edge event?
What services did you do before? What do you do now?
How about your relationship as a couple?
What is the CEO Warrior family like?
What would you tell someone who is struggling right now?
Key Lessons Learned:
Growing Pains
When Mandie was a kid, she started off answering phones in the family business so she has pretty much always been involved. Ian joined the business after moving back to New Hampshire to help grow the business and they've been at it for the past 15 years.
The Hagan's business grew steadily each year but eventually they got to the point where they began asking themselves if they were doing the right thing. Without a mentor, they felt lost.
Leadership skills were one thing Mandie and Ian were missing before joining CEO Warrior.
CEO Warrior
Mandie first saw Mike a couple of years ago at a seminar he gave, within the 45 minute seminar she knew that she needed to work with Mike.
She had to make a tough decision between investing in CEO Warrior and taking a trip to Napa Valley for her birthday, good thing she made the right choice!
The first day of the SBE event felt like the first day of school. They learned so much they went back to their hotel room at the end of the day and wondered how they managed to stay in business for so long. That day they knew that CEO Warrior was exactly what they needed.
When Mandie and Ian joined the program they were doing roughly a million dollars in sales, two years later they are on track to do six million in sales.
They originally did plumbing work before joining CEO Warrior, now they do electrical, septic, remodeling, pipe relining, plumbing, and a number of other kinds of work. They now have the confidence to add whatever lines they need to in order to grow their business.
One of the most rewarding things they managed to achieve is the team Mandie and Ian has put together.
As a couple, Mandie and Ian are now in alignment with each other and their goals. They've learned how to be more present in the moment with their kids and each other.
When you are surrounded by like minded, passionate, and engaged people it doesn't feel like work. The Warrior group has helped them eliminate the learning curve and save tens of thousands of dollars.
Freedom is going to work knowing that Mandie and Ian have a whole team that has their back. Before they had no one they could really rely on, now they can walk away and the business will run smoothly without falling apart.
Bringing in their CSR's to the Phone Warrior training showed how much Mandie and Ian believed in their ability to achieve greater results.
The main focus for the next couple of years is to keep up the pace of growth while also dialing in the systems and processes that will allow them to scale up even further.
If you're struggling now, you can't afford to not join CEO Warrior and transform your life and your business.
Links To Resources Mentioned
https://www.servicebusinessedge.com
Thank you for listening! If you enjoyed this podcast, please subscribe and leave a 5-star rating and review in iTunes!