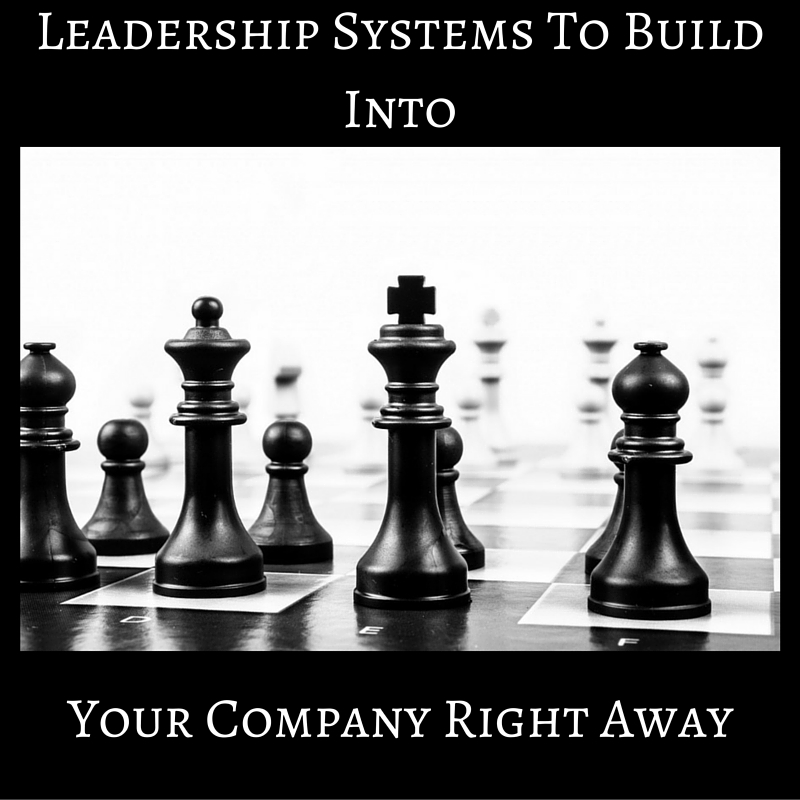 Systems are powerful: You build them once and then they run with only a minimal amount of attention from you, giving you the freedom to devote your attention elsewhere.  There are many systems you should create in your business but one type of system you absolutely must create in your business are systems that help you lead. Systems keep you from reinventing the wheel every single time.
As a leader, you need to build a culture of service and you need to direct and inspire your team. This is the never-ending work of a leader and it's made considerably easier when you have systems to help you.
Here are the leadership systems you should create:
• Hiring system:
A hiring system should include the steps and checklists you follow to hire the very best people. They might include things like: newspaper ads you post online or in the paper (if that's how you attract a team), a checklist of things you are looking for in an applicant, interview questions to ask someone, the steps of the process (for the applicant and for you), and a package of information to give the applicant when you choose to hire them (along with a checklist of information you need from them, such as uniform size or a copy of their driver's license).
• Customer feedback system:
As a leader, you direct your team to work with customers. One way to ensure that they're doing an effective job is to gather feedback from your customers. My favorite way to do this is through automated phone surveys. Although there is a cost to this system, it is a welcome investment to proactively address any concerns and keep them from becoming large issues if unaddressed.
• Team direction system:
Your company is at its best when your team is in the field visiting customers. But this type of work, which is a lot like the work of an air traffic controller, can be very time consuming. Which team member goes where, for how long… and where do they need to go after that? Build a system that directs your team to the right places throughout the day (but has them checking in with the office throughout the day for updates, etc.). You'll want to include perhaps a big whiteboard of where your team is at any given moment (very simple) or software that tracks where everyone is (more complex). The system should also include a checklist where your team calls in periodically to update the office on their schedule.
• Team feedback system (your feedback to them):
As a leader, your job is to help your team become more effective and proficient at their jobs; your job is to help your team level up. By providing regular feedback (both frequent informal feedback as well as regular formal reviews) you ensure that you're helping them along. Don't leave this to the last minute or approach this in a haphazard manner as a lot of businesses do. Build a system that measures key performance indicators (KPIs), that gives you time to do a thorough review, and ensures that a review is scheduled in the calendar rather than squeezed in as a last-minute afterthought. Building feedback systems show your employees how important they are to you.
• Team feedback system (their feedback to you):
Feedback is a 2-way street! You're not just giving feedback to them but your team should be able to share their observations back to you. A system for this allows them to do so anonymously, which gives you honest feedback about what needs to be fixed. Just like customer feedback systems, I like using an automated phone survey to poll my team regularly to collect very insightful information on how they feel.
Leadership is a 24/7 job… but there's another word for it to be a 48/7 job! Help yourself and your team and your customers by building leadership systems that take some of the pressure off of you and allow you to lead more effectively. If you want to learn more about secrets, strategies, and tips, check out my book Secrets Of Leadership Mastery.
P.S. – Have you seen the latest Podcast and subscribed to get weekly emails so you don't miss out?