If you're running an electrical, HVAC, or plumbing business, I know you're good at what you do. These are often complicated, technical, even dirty jobs, and the people who want to do them are superstars.
But for a business owner, you also have to learn how to do sales. After all, at the end of the day, it doesn't matter how good you are at the technical aspects of the job, if you can't make the phone ring and book the call.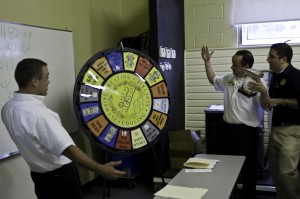 In this business, sales are how you build wealth and achieve market domination. I'm sure you've worked to build a great sales team – but are you keeping them motivated to book those calls and bring you more money?
The answer isn't necessarily giving them more money – studies have shown that financial incentives aren't generally the best choice for rewarding employees, even those in a commission-based job like sales. Instead, foster a little friendly competition among your sales team. They want to be successful. They want their colleagues to view them as successful. Offering them recognition through awards, contests, or even just a shout-out during a company-wide meeting or in a weekly newsletter, can go a long way toward keeping people motivated. Your employees like to know you've noticed them, that they stand out from the rest of the team.
Each month or each week, you can set a series of goals for your sales team, and assign a points system to each goal. At the end of the given period, the sales people with the highest scores can be rewarded with their picture on the wall, or a gift certificate of some sort – and a little bit of pride. I guarantee you'll find that sales team busting through your list of goals and clamoring for the next! That benefits each of them, making them better sales people – and it benefits your company by bringing in more business.
Sales is just one part of business mastery that I teach through CEO Warrior. Be sure you visit my events page to stay in the loop about my $28 Million Dollar Fast Track Academy – the next one is in the works right now.
Mike Agugliaro, "Business Warrior"
Founder of the $28 Million Dollar Fast Track Academy