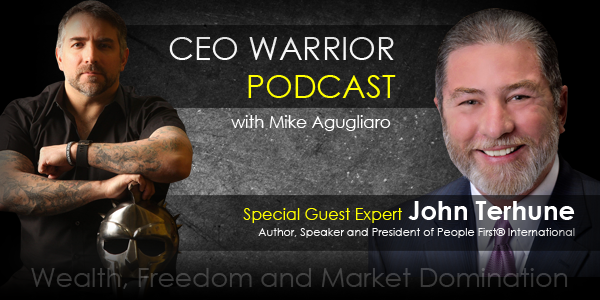 Summary:
In this week's episode of The CEO Warrior Podcast, Mike Agugliaro interviews John Terhune, who is a lawyer, author, speaker, and president of People First. As a keynote speaker, John has shared the stage with Ronald Reagan, Gerald Ford, and General Norman Schwarzkopf, and during his speaking experiences discovered there are four critical pieces to the 'success puzzle.' During this episode, Mike and John discuss attitude, people skills, leadership, and teamwork.
Main Questions Asked:
Talk about attitude.
What is the starting point in the process?
How does having a mission statement and purpose help with attitude?
Do you experience people who have a vision but not much clarity?
Talk about people skills.
Where are the biggest issues and roadblocks?
Why do people have a problem finding accountability partners?
What are the biggest team distractors?
Key Lessons Learned:
The concept of entrepreneurship has driven the progress of humankind.
People First is all about solving the two biggest problems companies have, which is poor execution and lack of engagement on part of the employees.
Hiring The Right People
You can be the greatest employer and coach in the world, but if you don't have the right people in the right seats, you won't do as well as you need to.
The cost of a bad hire is enormous.
If you can predict the hiring process so you hire people with predictability, then they will be successful in the right role.
Leadership & Attitude
Leadership is 70% attitude and 30% people skills.
The attitude of employees mirrors the attitude of the leader of the company.
Most small business owners don't understand that they are modeling the behavior that will be mirrored in their organization, and will ultimately be what the customer sees in the end.
You don't have to be in a leadership position to be a leader.
Having a title doesn't make you a leader. It is your action, attitude, and behavior.
A true leader is someone who can bring out the best in others.
Cultural Assessment
1. Create a mission statement.
What you are doing on a daily basis
2. Create a vision statement.
What you are going to be down the road as a result of the mission statement.
3. Create an image statement
This is a list of adjectives you would like to be described as, as a company.
This helps daily decisions.
Everyone in the company needs to understand their role in accomplishing the above.
Human beings will do more for purpose than they will for money.
If you give someone purpose, and they feel as though they are part of the accomplishment, then it will change the attitude, expectation, and desire to want to be a leader and to work together as a team.
The Picture Portrait Differences Exercise
Take a picture of where the company is right now that includes revenue, profit, and employees.
The next step is to paint a word portrait of where you want to be in the next 5 years.
List the differences between the picture and the portrait.
This information provides an action plan of transitioning the picture to the portrait.
The more detailed the plan, the more people are willing to buy into it.
The smaller you can make the milestones, the better it is.
Attitude
When people show up and understand what role they play in it.
If you want your external customers to be happy, you need to make your internal customers happy, aka staff.
A human being as an employee is a whole human being. The personal drives the professional. Whatever happens in someone's personal life is being brought into the workplace.
The most important part of attitude is consistency. This is comforting for employees.
Don't let others 'steal' your attitude during the day. Make sure you 'steel' your attitude.
30-Day Attitude Challenge
Score yourself on a 1-10 scale on a post-it note each night before you go to bed.
Stick it on the mirror, see the previous day's score, and remember that throughout the day and try to improve it.
After the 30 days, you'll find yourself having a consistent score of 8,9, and 10.
This is essentially an attitude tracker.
Language Police
This person in the office hears words of equivocation and stops people from using them.
The word 'try' leaves room for failure.
When you speak words, you are being heard by others but also by your subconscious.
People Skills
The person who has the greatest people skills is the person who has at their core humility. This is also true for leadership.
Humility is an outward expression of inward confidence. This transitions them into a great listener.
The greatest people skill is listening.
Hearing and listening are not the same thing. Listening is an active sport.
Roadblocks
Assessment: Most people don't take step one, which is assessing themselves. You improve what you measure.
Accountability: The people who accomplish the most in life have an accountability partner.
Accountability Partners
It is easier to maintain than it is to regain.
You have to be able to humble yourself to be in a mentor or accountability relationship.
A lot of people view having a mentor or accountability as weakness.
Everyone has the 'I want to quit muscle.'
Team Work
Being a great team player mandates humility.
Clarity of message by the leader of the team on the vision and mission is crucial.
Tips for Small Business Owners
People will buy you before people will buy your business.
People have gotten away from expressing gratitude for loyalty.
Business manners are critically important.
Be on time. You are speaking volumes about your respect for the other person.
Remember people's names.
Ask yourself what you want your legacy to be about.
Thank you for listening! If you enjoyed this podcast, please subscribe and leave a 5 star rating and review in iTunes!
Links to Resources Mentioned
John Terhune
john@johnterhune.com
People First International
Enhanced People Skills (book)
Click to Tweet
What is the 30-day attitude challenge & how can it change your life? Find out w/ @JJTerhune @CEOwarrior https://ceowarrior.com
Leadership is 70% attitude. Find out what makes up the other 30% w/@JJTerhune @CEOwarrior https://ceowarrior.com
P.S. – Are you SERIOUS about no longer treading water and MOVE your business forward WARRIOR STYLE? Find out more about Mike's Warrior FAST TRACK Academy!

P.S.S. -Cory feels this would be the easiest risk to take to grow your company.