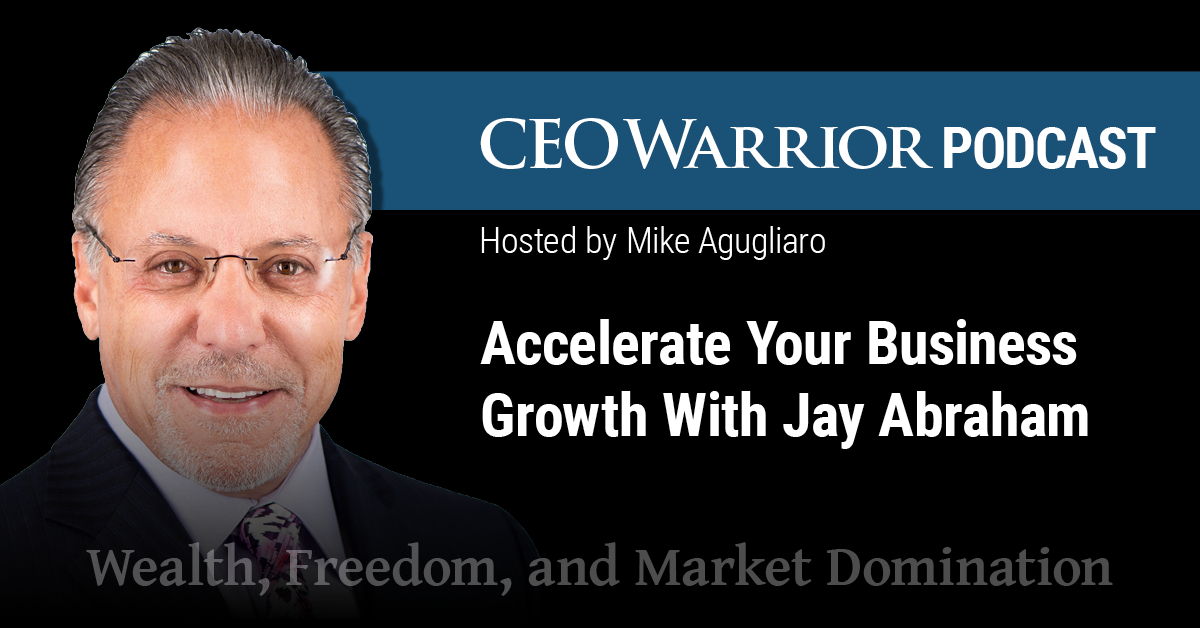 Jay Abraham is an American business executive, conference speaker, and author. He is known for his work in developing strategies for direct-response marketing in the 1970s. In 2000, Forbes listed him as one of the top five executive coaches in the US. He is the founder and CEO of the Abraham Group, a marketing consultant firm focused on providing growth strategies to businesses.
Jay's experience with working with thousands of industries allows him to see combinations of opportunities in marketing and profitability that he shares with his followers.
Main Questions Asked:
What insight would you give to business owner around temporary motivation?
How do you see the opportunities you do?
What is something that people should think about in business today?
Key Lessons Learned:
Business and Knowledge
There are as many as 50 hidden income points in someone's business that can be leveraged to increase profitability.
Expanding your mind is stimulating intellectual entertainment. When you look at one thing, your knowledge is pretty limited to one specific area of study.
Getting the highest and best use of your time requires you to look at more than one angle.
Everybody's problem is somebody else's solution.
Look for underutilized assets and relationships that you can optimize and leverage.
Mike spent over $1.3 million on his own education over the years.
Motivation
When you attend an event, it is not going to transform you. The event is the preparation.
Mike's event isn't really an event, it's more of a multi-day epiphany.
The way you get people to take action is to use real-life examples. Most conferences deal in abstraction which is not as effective.
When people see exactly how a number of high performers work and see the world, it gives them the missing link in what they can do to achieve similar results.
With most programs, you will only retain about 9% of what you hear and are designed to convey general information. They typically leave the application of the knowledge to the attendee.
Helping people grow by showing them exactly how to do it and not as hard as they think is way more effective.
The Future
Service businesses aren't going anywhere in the near future. Most people are not going to be interested in doing their own repairs and maintenance.
Unless you approach your connection with the marketplace with higher and better purpose, you're going to become commoditized.
Are you different? If the answer is no, you can make a living but you will never ascend to greatness.
It is harder and more exhaustive to be mediocre than it is to be great.
How can you make it easier for you clients to do business with you?
What do you have to do to engage your team to feel like they are on a crusade or a mission?
People don't want to be mediocre, they are because no one helps them develop and grow.
Links To Resources Mentioned
Thank you for listening! If you enjoyed this podcast, please subscribe and leave a 5-star rating and review in iTunes!