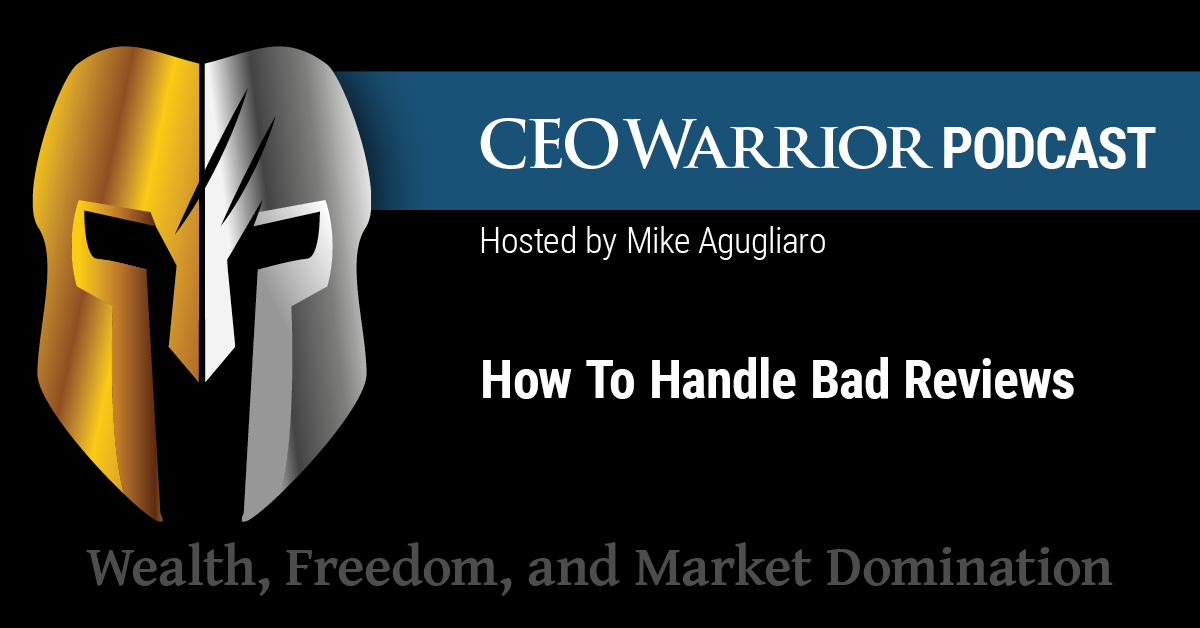 Mike Agugliaro talks about how bad reviews can really throw some people off their game. Instead of fighting the review or turning a blind eye, Mike gives you a three step process you can use to turn people who give your business bad reviews into raving fans.
Key Lessons Learned:
Social Media
Technology and social media has changed the review game, it's never been easier for your customer to publish a review of your business.
Positive reviews are part of the process of getting a customer to become comfortable with trusting your business and you should ask your customers directly for one.
Getting Reviews
Tell your customers up front that you are going to wow them so much that they are going to want to give you a five star review. When set the expectations high you rise to the occasion.
Most people are just waiting for reviews to happen, if you ask for the five star review and feedback on how you did, you are much more likely to get what you want.
There are three responses to a bad review. People will either fight and justify the result, turn a blind eye to all reviews in general, or they freeze because they have no idea how to handle a bad review.
Don't get cocky about your good reviews and don't let the bad reviews bring you down. Use them as motivation to improve and get better.
When you go from fighting to caring in your business's culture, the whole game elevates. When you break a new ceiling you create a new floor.
The Three R Process
The first step is to Respond, it doesn't matter how long ago the review was given, you should respond to every review you receive. Responding shows that you care about the experience your customer had, good or bad.
Respond to bad reviews without justifying the quality of the service delivered. Invite them to discuss the issues directly and state specifically that you want to do what it takes to turn them into a raving fan.
The second step is to Relocate. You will not be able to satisfy everyone and you will get some less than stellar reviews, if you have raving fans they will come to your defense when they get a bad review.
Asking someone who has given you a bad review to modify it after the fact once you have dealt with the issue is a good way to show a good faith effort to fix the situation and turn a disgruntled customer into a raving fan.
Leverage your good reviews in more than one way.
The third step is to Raise. You should constantly raise the bar. What gets measured and reported on improves exponentially. Use your reviews as a way to establish the benchmark for constant improvement.
Links To Resources Mentioned
https://www.servicebusinessedge.com
Thank you for listening! If you enjoyed this podcast, please subscribe and leave a 5-star rating and review in iTunes!