CEO Warrior hosted more than 80 home service business owners from 25 states and 4 countries for a leadership event that featured Highlander's Adrian Paul and representatives from Google
CEO Warrior, a global business mentoring, training and coaching organization for service business owners, hosted its member-only CEO Warrior Circle event from Nov. 28 to Dec. 1 featuring representatives from Google as well as Adrian Paul, an English actor known for his title role on the television series Highlander. More than 80 home service business owners from 25 states and 4 countries attended the four-day leadership event that took place at the CEO Warrior headquarters in East Brunswick.
It has already been picked up by 246 media outlets, including Yahoo Finance!, Market Watch, and the New York Business Journal.
Yahoo Finance!
Market Watch
New York Business Journal
Contracting Business
PLUS – PRNewswire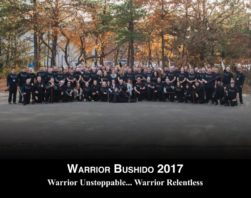 "Having Google and Adrian Paul share practical insights at the CEO Warrior Circle event, in addition to other training sessions, helps business owners to improve their mindset, skillset and ability to take immediate action," said Mike Agugliaro, founder of CEO Warrior. "We constantly test what works in the market so we can help business owners get results faster than anyone else. We're not just about helping business owners create a plan to transform their businesses, but we're there every step of the way as they implement the plan and take action."
Isha Vij and Amy Gold, both agency development managers at Google, shared strategic and practical insights on how service businesses can closely partner with Google to grow their businesses. With Google playing a dominant role in making it easy for potential customers to find, vet, and contact local home service businesses, this presentation was one of the highlights.
Another high point of the event was the Highlander-style sword fight exercise presented by Paul. He used mental and physical challenges to force participants to make smart decisions under stress and to demonstrate the importance of team synergy on common objectives. Paul said, "In a sword fight, poor due diligence and decision making will cost you your life. In the corporate world, it could cost you your business."
The CEO Warrior training system has a unique approach, inspired by Mike's straightforward style and martial arts training, to help business owners create mental focus, strategic thinking, resiliency, respect and a warrior spirit to take their own businesses to the next level. Business owners participated in personal empowerment activities such as fire walking, fight training, and board breaking exercises.
"This is the best group on the planet," said Gabe Wade, owner of Triple Service. "I have belonged to several business groups and a franchise. None of them can hold a candle to what CEO Warrior brings to its members. They care! We will be here forever."
Brian Vardiman, owner of Best Service, added, "I've worked with these amazing people for three years now. I have no plans on ever stopping. I've grown my business 600 percent in three years. CEO Warrior has changed my life."
The next major CEO Warrior event for members and non-members is Service Business Edge, previously known as the Warrior Fast Track Academy, scheduled for Feb. 6-9, 2018.
CEO Warrior works with business owners across the U.S., Australia, Bermuda, Canada, and New Zealand, creating a global movement in the home service industry. The company helps tradesmen grow their businesses and have the lifestyle they want from the business they have.
To find out more about CEO Warrior, visit www.ceowarrior.com.
About CEO Warrior
CEO Warrior is a business consulting, training, and mentoring firm, providing tested and proven methods to defeat the roadblocks that prevent small to mid-sized businesses from achieving their ultimate success. CEO Warrior teaches business owners how to achieve wealth, freedom and market domination by using the tools and skills Mike Agugliaro, founder of CEO Warrior, used to build his home service business into a $30 million-plus business in 10 years before achieving his exit strategy and selling it this year. The Warrior system uses a unique approach to training, inspired by Mike's straightforward style and martial arts training to create mental focus, strategic thinking, resiliency, respect and warrior spirit to take business owners to the next level. CEO Warrior targets the specific areas each business needs to address, eliminate, enhance or add in order to reach their business goals and attain what every business owner wants in the end: financial independence. For more information about CEO Warrior, visit ceowarrior.com.