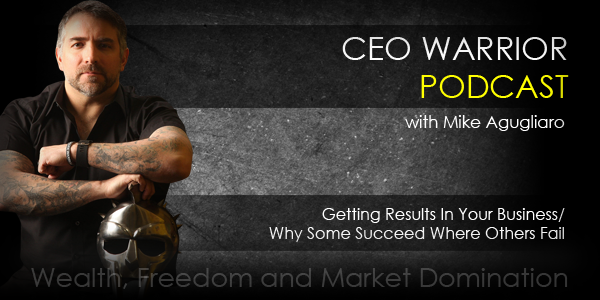 https://traffic.libsyn.com/ceowarrior/Why-Do-Some-Fail-Succeed.mp3
Summary:
Mike Agugliaro talks getting results and why some business owners suffer and fail despite investing in training and education.
Key Lessons Learned:
Getting Results
It's ridiculous that business owners spend their hard earned money on solutions and then don't get results.

"It's hard for someone to build a million dollar business with a hundred thousand dollar mind."

Bringing OK training to really good people will not get you any results.

Is your mind ready to expand and try new things?

Your people need to understand that there's a mindset gap, they need to be ready and engaged in the information if you want to see results from new education.

Ambitious people hunger for more impact.

Incremental growth will not get you where you want to be, you need to make a fundamental shift to unlock exponential growth.

If it's all about mindset, why are so many positive people broke?
Mindset
Your mind is like the hardware of a computer, you can't run a software program that your hardware can't handle.

You follow the path and stick to it until the path will no longer take you to where you want to go.

If your leader doesn't have the mindset to take action, no amount of training is going to improve the results of your team.

"Give a tablet to someone who can't do paperwork right, and they will just suck more."
The Personal Gap Analysis
Ask yourself "where are you today and who do you personally need to become to get where you want to go?"

You need to change the person to change the world.

If you tell yourself "I will be more focused, I will be unstoppable." You will start to change the way you think and the way you act.

If you solve yourself, you can solve any problem in the world.

You can complain about something, but you need to take action.

Are you playing at 100% in all areas of your life? That's what leaders do. Stop playing small time.

You have to be willing to do what others won't do in order to have what other's won't have.

Don't help someone else until you help yourself.
Links To Resources Mentioned
https://www.servicebusinessedge.com
Thank you for listening! If you enjoyed this podcast, please subscribe and leave a 5-star rating and review in iTunes!