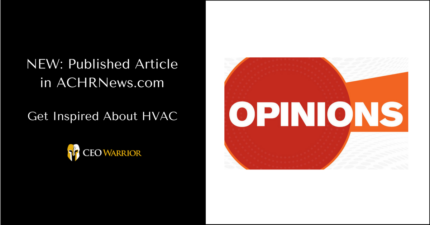 Today, for the first time this fall, I put on a hoodie — a Michigan State University hoodie, of course. Go Green! This is significant because the last few weeks, Michigan has hit record fall temperatures in the mid-90s. But, today, it seems as though fall has officially arrived. The kids are back at school, the leaves are beginning to turn, and all is right with the world. But falling back into the fall routine may not always be the best option.
Sometimes, performing the same monotonous day-to-day tasks can lead to a rut. Most of us have been there at some point. For example, I had a conversation with some coworkers not too long ago about how to put a different spin on a topic we've already written about repeatedly this year. None of us here at The NEWS wants to write the same story over and over, so we brainstorm ideas. However, there are only so many ways to describe the sales process regarding a smart thermostat, so, we are sometimes left feeling like we are stuck in a rut.
Continue reading the full article HERE.
Don't YOU want to boost your expert status and play against the big companies?
Learn how at the Service Business Edge: The Secret Blueprint To Growing Your Business.