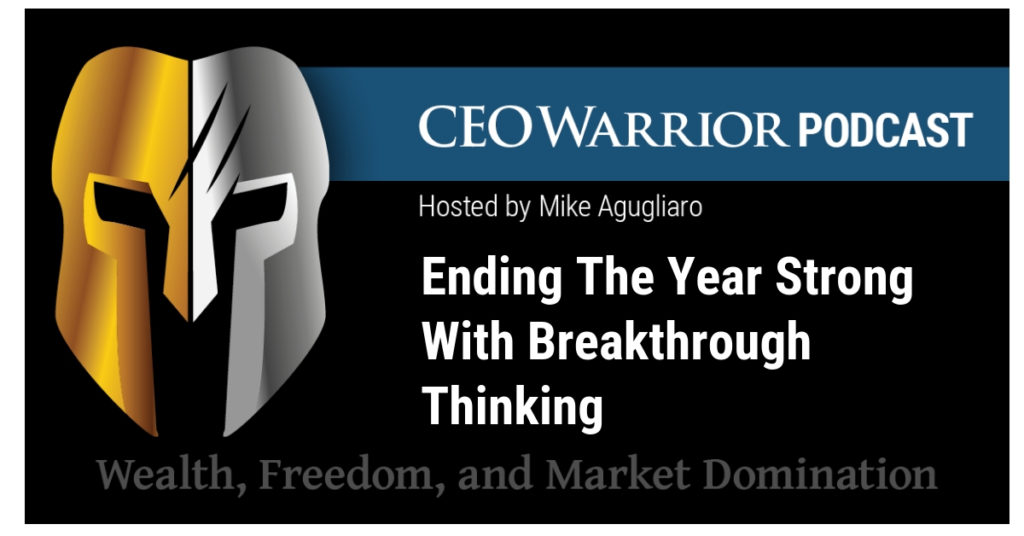 Summary:
Mike Agugliaro shares the Breakthrough Thinking Model that will help you make sure that you end 2018 strong and start off 2019 with power and focus. Learn how the changing seasons don't have to affect your service business the some guru's say and how you can engineer your business for powerful growth all year long.
Key Lessons Learned:
The End of the Year
People often want to start off the new year moving really fast. They want to sprint towards their goals and drive hard but the end of the year holidays tend to slow people down. The season changes into winter and we start to get into hibernation mode. This can be a double hit to our businesses.
You have time before the end of the year to course correct and prevent yourself from falling into the gap.
You have to have a sense of teaching with your team. Education applied equals power, if you can educate your team and help them apply the knowledge you will get results.
The decline begins right after the summer season. A lot of gurus say that once September arrives you've entered shoulder season but we have to ask ourselves if that's actually true.
We have to clear the belief and programming that these drops are unavoidable, that some seasons are just worse than others.
Don't "fall" into winter waiting to "spring" into summer.
Start making changes now instead of waiting for New Years.
The only real competition you have is with yourself.
Taking Breakthrough Action
To take action, you first have to understand what's happening within your ecosystem. Once you understand the situation, you can take control of the situation.
Once you choose to create your own economy, everything changes.
I lot of people get trapped in the idea of "this is what I do" instead of thinking "this is one of the things I do."
A SuperTech with skill in more than one trade is not controlled by the season, they just switch the work they do depending on the time of year.
What are you going to start doing today? Planning, thinking different, higher level education are all important. If you don't have the education on how to grow, you can't really be surprised that you are not where you want to be.
What do you have to stop doing? Procrastination, complaining, hanging around weak people, a lot of what you are capable of is determined by your peer group. Your stop list is your most powerful list.
What are you going to keep doing? Working hard, skilled work, being friendly, what are the most important things you already do that you will double down on.
If you start eating a salad every day, you will probably feel better, but not if you're eating terrible food the rest of the time. You have to stop the bad habits to let the good ones shine.
What is the breakthrough in what you just learned? A breakthrough is a personal evolution where you take ownership of the concept and it shapes your thinking from then on.
Links To Resources Mentioned
Outwitting the Devil by Napoleon Hill
Thank you for listening! If you enjoyed this podcast, please subscribe and leave a 5-star rating and review in iTunes!
Listen on iTunes (Apple)
Listen on Stitcher (Android)