How is morale among team members at your HVAC, electrical, or plumbing business? Are your employees happy? Are they motivated to promote your business to help make the phone ring? Are they helping you make more money and achieve market domination?
If not, then it's time to ask yourself why. Management and team building is one of the big things I talk about with CEO Warrior, and I've found that many of the business owners I work with don't realize just how important it really is.
That's why I thought this Inc. article was interesting. You see, companies in all industries are just starting to realize that it's important to give employee reviews – frequently. After all, if you're just giving employees performance reviews once a year, can you really get a handle on their satisfaction? Are you really getting to know your newer employees and helping them fit into the company culture and become a part of the team? Inc. recommends assessing employee satisfaction far more often – even as much as once a week!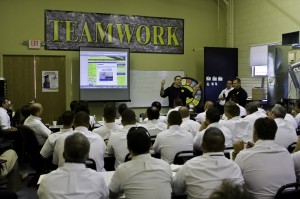 I use team meetings as one part of gauging my employees' happiness
Here are some questions you might want to consider using to gauge your employees' happiness. Use them to get honest answers (you can ask employees to answer anonymously, if you think it will help encourage honesty) – and ask them fairly often.
Name one process that, if it were eliminated, would make you more productive: You might find out there's a company process that leaves employees feeling more frustrated than anything else.
How transparent is management? This will let you find out if team members view you as inconsistent or open about your decisions and policies.
How are the snacks in the kitchen? This is just a little thing, but what if you find out that no one likes the brand of crackers or coffee that you've made available? Providing something people like can boost morale.
What factors would make you do your best work? Have employees list the things that would empower them to do their jobs better.
Have any recent recognitions helped to increase your commitment and loyalty? If you know what makes your employees feel appreciated and motivated, you can do more of it.
How would you assess your opportunities to grow and advance? Employees often leave a company because they feel like there's nowhere for them to go. If you sense that from responses to this question, make changes to your advancement program.
How confident are you in leadership? This is one you'll need to pay close attention to as a business owner. If your employees don't have faith in you, then you need to make some changes. Don't ignore these responses – use them to better yourself.
Questions like these can go a long way toward helping you know what will make your employees happy. Just make sure you implement anything you identify to boost loyalty and morale.
Mike Agugliaro, "Business Warrior"
Founder of the Warrior Fast Track Academy and CEO Warrior Circle