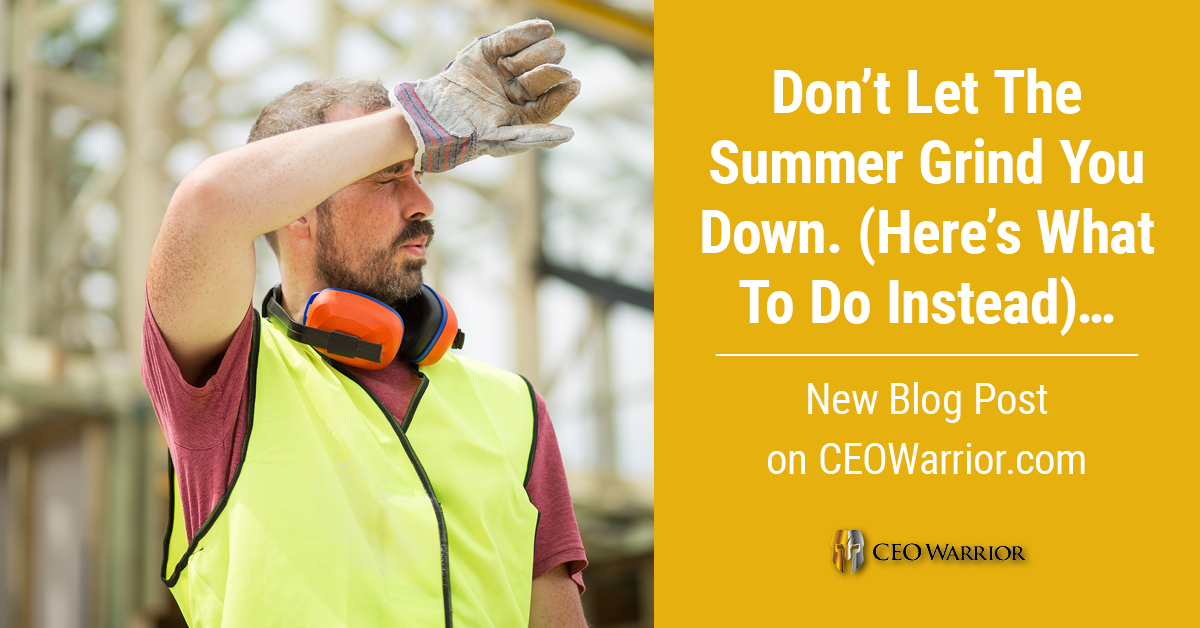 It's August. It's the height of summer. Customers are calling and the phone is ringing off the hook.
You're busy. The office is hectic. Everyone is working long hours to keep up with demand.
Problem is, it's been going on like this for a while, so something is happening: You're being worn down.
Day by day, hour by hour, the constant battle to stay on top of everything is taking its toll.
You end up more tired. Maybe even short-tempered. And in spite of the higher revenue throughout the summer, you might find yourself wishing for the quieter fall.
If you feel that way, here's what to do…
#1. Reconnect with your "why".
Why are you in business? It could be because you want to provide for your family and give them the very best life. But when things are busy, it's easy to forget that. Take a moment right now to feel gratitude for your loving family and remind yourself that you do it all for them.
#2. Think about your customers.
Of course the money you make from your customers is great, and helps you pay the bills… but think about your customers for a moment. Remind yourself that they are not a hassle when they call you. All they want is to trade some value (money) so they can make their family safer and more comfortable. Everyone has the simple desire to protect and care for their family, and your company directly helps them do that. You add value to their lives!
#3. Take a deep breath.
Take a bunch of deep breaths. Remind yourself throughout the day to control your breathing and that will help you control your stress. (Hey, it's what Special Ops people do… something called "box breathing"—very powerful).
#4. Look in the mirror.
Remember that YOU are the product of your decisions, not your circumstances. You choose how to act and react in any situation. Look in the mirror and remind yourself that you are in control and you are the one who will take it to the next level.
#5. Go lead your team.
If you think you're wrung out and not able to do much more, you're wrong. You have untapped reserves. It's time to step up to the next level and lead your team like never before. Show up to the office strong and in control, confident and happy about the phone ringing off the hook. And walk your team through these steps too.
You are like a muscle: when you push past the hardship and pain and challenge, you stretch and grow. It is a challenge to step up but now you can handle even more!
Feeling better about the summer? Good! Now go WIN THE DAY!!!
One more Warrior Action Step for you…
FREE STRATEGY SESSION
Finally solve the biggest obstacle in your service business in the next 90 days, and super-charge your company to grow faster than the industry average….Even if you've hit a plateau or are thinking of shutting down. Book a one-on-one call with one of our Growth Advisors HERE.