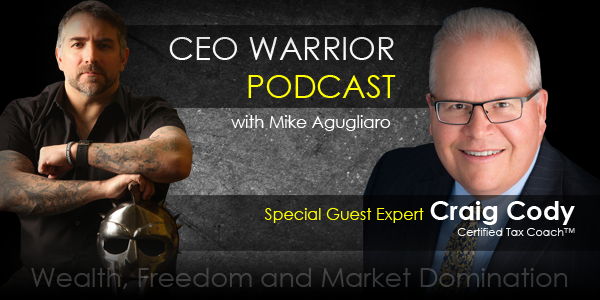 https://traffic.libsyn.com/ceowarrior/Craig-Cody.mp3
Join Mike for this week's episode of The CEO Warrior Podcast as he interviews Craig Cody on the importance of tax planning.
Summary:
Craig Cody is a certified tax coach, a public accountant, a business owner, and a former New York City Police officer with 17 years of experience on the force. In addition to being a certified public accountant for the past 15 years, Craig is also a certified tax coach that is part of a select group of tax practitioners throughout the country that undergo extensive training and continued education on tax planning techniques and strategies.
Craig has co-authored the Amazon best seller Secrets of a Tax Free Life.
Main Questions Asked:
What are some things we should think about with tax planning within business.

What are some things that small business owners need to think about?

What are some of the other areas of tax planning that most business owners don't know about?

Are there any tax strategies we should consider revolving around running a business?

What would a tax plan look like?

What are some things you should pay attention to when your business is in growth mode?

What are some tax strategies we should think about when it comes to acquisition?

What should business owners think about over the next two to three years?
Key Lessons Learned:
Tax Planning
Most businesses are formed before they put together a tax plan which could be a mistake.

The main differences between the various corporate structures are the way your income as the owner as taxed.

Communication with your accountant is very important. They don't know what you don't tell them. Your accountant has to be a part of your strategic team.

You need to spend time with your accountant to understand what tax strategies you can take advantage of.

Do your due diligence when determining your tax plan.

You shouldn't pay more than you are legally liable to pay.

Retirement plans are an area that many business owners don't take full advantage of.

You should be doing some tax planning at the end of the year when it comes to real estate and new equipment and vehicles. Buying your property is often the best move from a tax perspective.

The first step is analyzing your past returns and getting to know your business, after the analysis you can see the ROI on the proposed plan. You can either implement the plan with your own accountant or have Craig work with you.

Pay attention to your receivables, this is an area that many businesses neglect and ultimately fold because of.

It's important to maintain your accounting if you're preparing to sell your business. Businesses need to build a reliable accounting team and work with them throughout the year. A really good accountant should make you money, not cost you money.
Deductions
Food expenses when entertaining clients are deductible at 50%, if you're providing food for your employees the deduction is 100%.

You can hire your children and as long as the process is followed correctly, you can fund a variety of activities in a tax free way.

The government allows you rent your home to your business for up to 14 days as long as it's for a legitimate business use.

If you have a piece of equipment that is fully depreciated, you can gift it to someone like your parents and then lease it back to from them.
Final Tips
Communicate with your accountant on a regular basis, if they aren't available most of the time find someone else.

Pay attention to what your business is spending money on, think about what you should be doing with the money you save.

Tax planning should be done by design, not by default.

Don't get caught off guard by waiting to deal with your taxes until the end of the year.
Links To Resources Mentioned
https://www.craigcodyandcompany.com/warrior to redeem your free gift
516-869-4051
Thank you for listening! If you enjoyed this podcast, please subscribe and leave a 5-star rating and review in iTunes!
P.S. – Are you SERIOUS about no longer treading water and MOVE your business forward WARRIOR STYLE? Find out more about Mike's Warrior FAST TRACK Academy!