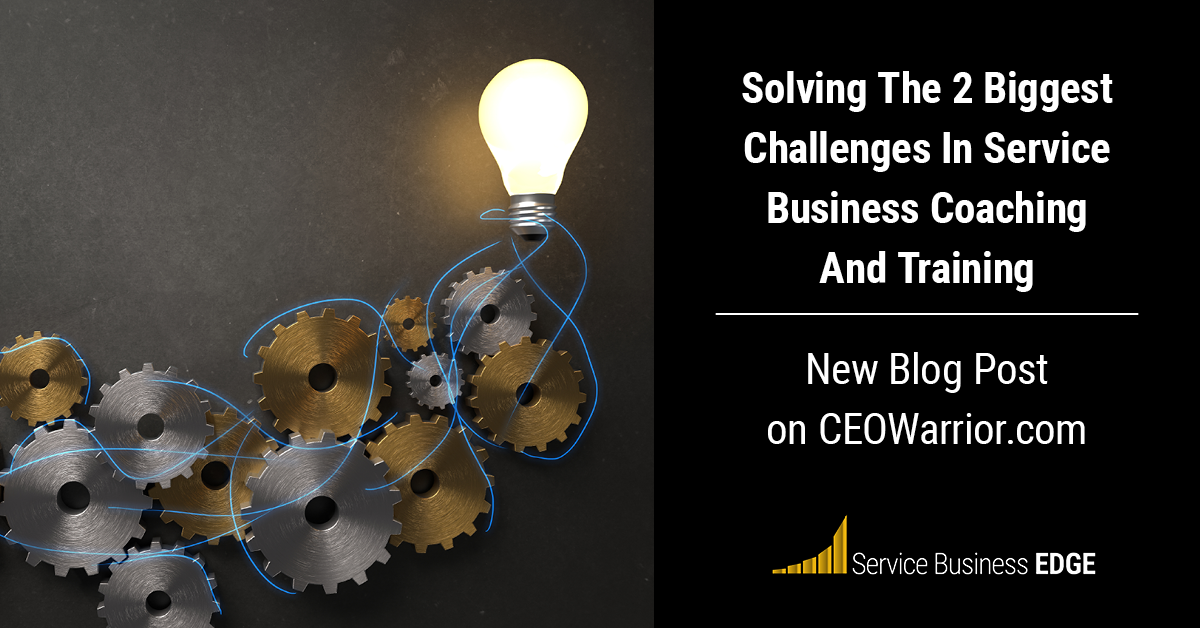 Have you ever heard a great idea or strategy for your service business, and thought to yourself, "I need to do that in business," but when you got to work the next day you totally forgot about it? That happens to everyone and it hints at the two huge problems in the home service industry…
… and Service Business Edge was built to solve both the problems.
Service Business Edge is a 4-day intensive hands-on workshop designed specifically for service business owners who reveal everything you need to grow your business.
What Are The Problems, Why Do They Matter To You, And What Does Service Business Edge Have To Do With It?
A lot of service business owners are hands-on professionals. They went to trade school, not business school; they received licenses and certifications, not an MBA. As a result, many service business owners have incredible skills to install and repair equipment like HVAC systems, plumbing systems, electrical systems, and more, but they struggle when faced with…
Finding proven strategies that can help them grow their business

Figuring out how to implement those strategies into their business
You see, there are A LOT of strategies out there. But not all of them are worthwhile. Not all of them work. Not all of them are relevant to today's economy or market.
And even if you can mine through the MASSIVE pile of strategies, there's yet another challenge that business owners face: how do you take the conceptual strategy and turn it into practical, actionable tactics inside your business?
Strategies and implementation—the lack of both of those are why my business partner (Rob) and I struggled in our service business in the early years.
Strategies and implementation—once we figured out that we were missing those two things, Rob and I set out to learn how to master both of those.
Strategies and implementation—mastering those two aspects were fundamental to our rapid growth from under a million a year to over $30 million/year.
Strategies and implementation—those are the two key aspects of what we teach at Service Business Edge.
There are other service business coaching and training organizations out there. But none of them focus on the strategies or implementation that we cover at Service Business Edge.
Service Business Edge—Strategies
At Service Business Edge, you'll hear about the strategies that Rob and I used to grow our business. We'll share the models and templates with you; we share our files and hand them to you so you can use them as swipe files; we share our entire playbook of strategies and that will be a resource you'll use in your business for years to come. It truly is the "Warrior Blueprint" for growing your business.
I often joke that it's a firehose of strategies… and it is. It can be overwhelming, frankly. But you'll have all the strategies you need to grow your business. And not only that, we'll show you the other side too…
Service Business Edge—Implementation
If you only left Service Business Edge with strategies, I would feel like we failed. Because strategies are great but they are conceptual, and if they stay in your head then they are worthless.
Want to know where the real riches are when it comes to strategies? It's in implementation. That's where the power is.
And at Service Business Edge, we focus on helping you find the best strategies for your situation and implement them into your business… not in a cookie-cutter way but in a real hands-on, customized implementation plan that you create with our Master Advisors during the event.
You'll leave the event with something called a "Warrior Road Map" which lays out step by step the strategies that you'll implement in the first 90 days after leaving the event.
Frankly, no other service business coaching or training organization does that. (Or, if they say they do, their implementation is usually a cookie-cutter approach that still forces you to figure out how to make it work in your unique situation.)
The Service Business Edge "Secret Recipe" Is: Strategies And Implementation
If you want proven strategies to grow your service business, and if you want help figuring out how to actually implement those strategies into your business, Service Business Edge is where that will happen.
Service Business Edge has become the defining moment for hundreds of business owners—a spark that ignites powerful transformation in their businesses and in their lives. And at CEO Warrior, we work very hard to make sure that this event is nothing like any other event you have ever experienced. Your business WILL grow after you attend this event, simply because of this secret recipe of strategies AND implementation.
If you want to learn more about Service Business Edge and what it's like, or if you're ready to buy a ticket to get game-changing strategies and implementation for your business, visit ServiceBusinessEdge.com.