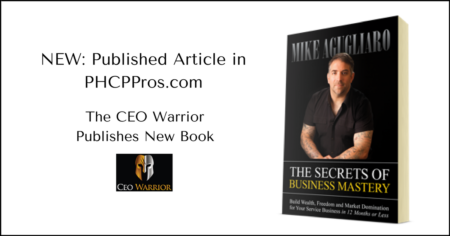 Mike Agugliaro, the man behind the CEO Warrior training program, has published his latest book, "The Secrets of Business Mastery: Build Wealth, Freedom And Market Domination For Your Service Business in 12 Months or Less."
The book is designed to create opportunity by providing tips on turning a business from burnout to booming for service business owners wanting to take their business to the next level.
It is no secret that the service business is hard work. Furthermore, providing for high volumes of customers and meeting the demands of leading a business can lead to burnout when the load proves to be too much. "The Secrets of Business Mastery" gives service business owners the tools to help create the practices necessary to transform a struggling business into something to be proud of in the long term.
Continue reading the full article HERE.
Don't YOU want to boost your expert status and play against the big companies?
Learn how at the Warrior Fast Track Academy.