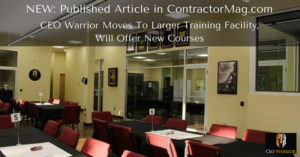 CEO Warrior, a business mentoring, training and coaching organization for service business owners, announced the opening of a new 10,000-sq.-ft. training facility in East Brunswick, New Jersey. The new training facility will house three separate training quarters so different events can occur simultaneously.
In addition to the Warrior Fast Track Academy and CEO Warrior Circle training events for business owners, there will be new one- and two-day course offerings in leadership, sales, marketing, service management and customer service for staff members of all levels.
Continue reading the full article HERE.
OTHER PUBLISHED ARTICLES ON THE TOPIC:
My Central Jersey – CLICK HERE. (scroll to the bottom)
Don't YOU want to boost your expert status and play against the big companies?
Learn how at the Warrior Fast Track Academy.