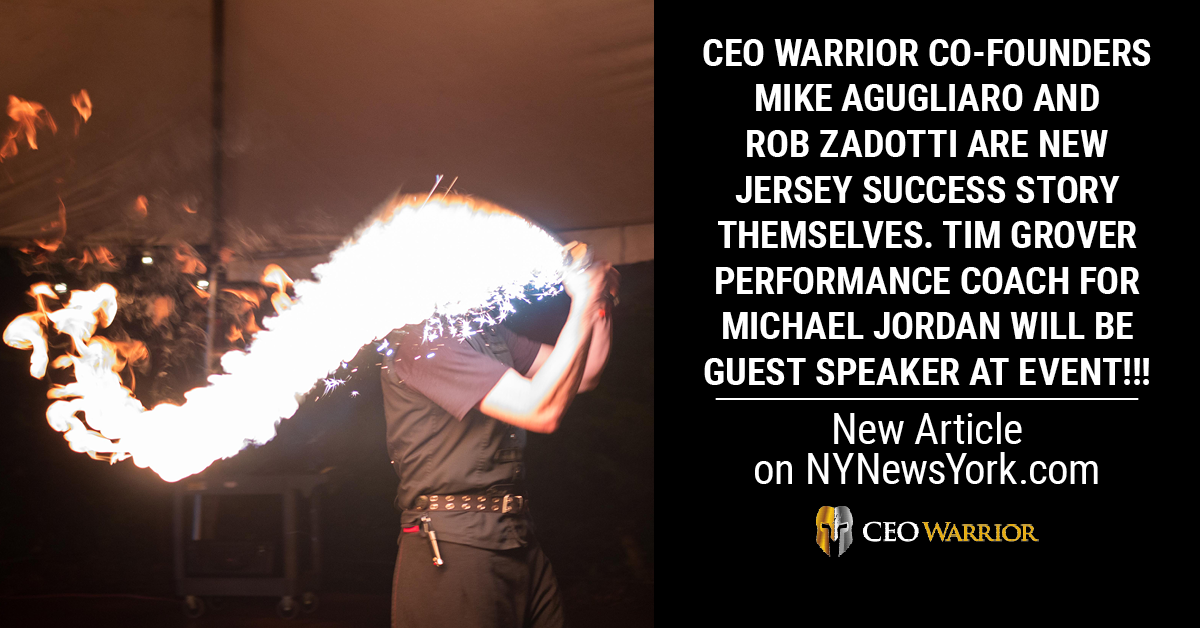 CEO Warrior made the news once again… this time, the spotlight is on the cutting edge training business owners receive when they attend an event. Top notch speakers, such as Tim Grover, performance coach for Michael Jordan, is just one example of the high caliber professionals doing the training sessions.
This kind of experience leaves business owners stoked and ready to dominate their market. The press release:
---
Over 60 Business Owners Traveling To New Jersey To Learn How To Become 'Relentless' For Business Growth
East Brunswick, NJ – May 15, 2018 – CEO Warrior is a New Jersey-based coaching and training company for service businesses. From Tuesday May 15 through Friday, May 18, more than 60 business owners from around the country will be at CEO Warrior's Headquarters in East Brunswick New Jersey for training, which includes highly respected business experts, in-depth business training sessions, and even fire-walking.
Business Owners Will Learn An Unexpected Trait Of Business Growth
"One of the most powerful traits for a business owner to lead his or her company successfully is the trait of being relentless," says Mike Agugliaro, co-founder of CEO Warrior. "Yet, very few realize the value of this trait so it's often overlooked, and companies suffer."
From May 15 through May 18, more than 60 business owners will come to East Brunswick New Jersey to learn the value, power, and opportunity of what it means to be relentless in their business.
The event will take place at CEO Warrior's Headquarters and includes four full days of training, interaction, guest speakers, and even some unexpected activities, all designed to train business owners how to grow their businesses.
"We dig in with powerful, field-tested strategies," explains Rob Zadotti, co-founder of CEO Warrior, "and we'll also be focusing on how to build this overlooked skill of being relentless, which will help business owners take their companies to the next level."
"Most people start something and stop it too quickly," adds Agugliaro, "but when you learn to be relentless, you become like water: which looks like it flows around an obstacle but over time has the power to cut through rock. That's what participants will learn this week."
The Experience Will Be Unique And Memorable For Attendees
"This isn't like the kind of training you might see at other industry organizations," says Zadotti. "We hold these events two or three times a year and we're always changing things to create a new, powerful experience each time."
During this Relentless event, participants will spend time learning from Agugliaro, Zadotti, and the CEO Warrior team (which includes Master Advisors and support staff). Business owners will discuss challenges and opportunities that they are experiencing and they'll receive in-depth training, including specific strategies and resources that they can bring back to their companies to apply.
Participants will also hear from well-known guest speakers, including Tim Grover, author, speaker, and performance coach for such athletes as Michael Jordan, Kobe Bryant, Dwayne Wade, and hundreds other NFL, MLB, NBA, and Olympic athletes. "Tim Grover will show business owners who to be relentless in business in the same way that athletes are relentless at the top of their sports."
Another highly respected guest will be Kevin Axtell, Director of the Fire Walking Center. Through his dynamic skill of fire art, Axtell will dazzle the audience with magic and stunts. "It's a powerful and life-changing practice," says Agugliaro. "The business owners who participate will be transformed in their minds, which will have a profound impact on how they lead their businesses."
Only Select Businesses Are Able To Attend This Exclusive Event
CEO Warrior trains business owners from all over the world. However, not everyone is able to attend this Relentless event. "We have public events, such as our Service Business Edge event from June 12-15 that are very popular and widely attended because of guest speakers like business expert Jay Abraham, direct marketer Brian Kurtz, and New Jersey business expert Mike Michalowicz," explains Rob Zadotti, "but events like this Relentless event are closed to the public. Only those who have committed to a longer-term journey with CEO Warrior, by joining the CEO Warrior Circle, are able to attend."
CEO Warrior Circle is an exclusive high level mastermind group that select business owners can apply to join, and members have seen dramatic growth in all aspects of business, from recruiting to marketing to profitability.
"When people hear about these closed events, they always ask us, "How can we take part?" Agugliaro says. "It's not as simple as showing up. But for those who do get here, the transformation is life-changing."
More About CEO Warrior And Its Co-Founders
CEO Warrior co-founders Mike Agugliaro and Rob Zadotti are New Jersey success stories themselves. They founded a different company, Gold Medal Service, in 1995. At first that company struggled and nearly had to shut it down but then they discovered the strategies necessary to build that company to over $32 million a year before they sold it in 2017.
Agugliaro and Zadotti also founded CEO Warrior, a high level coaching and training organization focused on helping other service business companies learn and apply the same strategies that helped them at Gold Medal Service. From HVAC, plumbing, and electrical companies to dog training, from financial services to martial arts studios, CEO Warrior holds training events regularly at its 10,000 square foot facility at 154 Tices Lane, East Brunswick, NJ 08816.
CEO Warrior works with business owners across the U.S., Canada, Australia and New Zealand, creating a global movement in the home services industry. The company helps tradesmen grow their businesses and have the lifestyle they want from the business they have.
For more information about CEO Warrior, visit https://ceowarrior.com.
BIO
CEO Warrior is a business coaching and training organization for home service businesses. They provide proven step-by-step strategies to help service business owners achieve more wealth, freedom, and market domination using the strategies that CEO Warrior co-founders Mike Agugliaro and Rob Zadotti used to grow their home service business into a $32+ million/year household name in New Jersey.
For more information about CEO Warrior, visit https://ceowarrior.com.
Read more at https://www.nynewsyork.com/top-stories/102-ceo-warrior-co-founders-mike-agugliaro-and-rob-zadotti-are-new-jersey-success-story-themselves-tim-gorover-performance-coach-for-michael-jordan-will-be-guest-speaker-at-event.html#XqjRsdFbMLXph7iH.99
Read the full article in NY News York.com click HERE