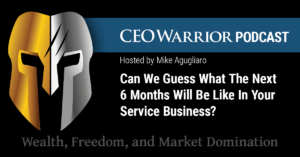 Mike Agugliaro breaks down what you need to be thinking about now in order to succeed in the future. Find out what you can do to make sure that a powerful fall filled with strong growth for your business follows and explosive summer, instead of suffering from the cold weather downturn that afflicts most service businesses.
Key Lessons Learned:
Preparing For The Future
Summer and Fall are neither good or bad for a service business, they are just different.
You have to prepare for the seasons before they arrive, not when they arrive.
The seasons are not about the temperature going up or down, it's the emotional state of your customers that go up or down. In the summer, people are happy and spending freely. In the fall, it gets darker earlier and people start hunkering down.
If you fail to plan, you plan to fail. Start planning for what you are going to talk about to your customers and when, in July, not in September.
You have to prepare people's minds to not stop spending, but to instead spend money on problems they didn't know they needed to fix.
There is a five step process to get your service business ready for the transition to fall: Plan, Pre-schedule, Educate, Motivate, and Evaluate.
You can pre-sell, go after clients that didn't buy over the summer and schedule them for September instead, and educate the client on things they should think about.
Motivate your clients to get the job done in the future and evaluate your plan and course correct if necessary.
Prepare your PPC, press releases, outbound, and email for the future seasons, not just the next couple of weeks.
Links To Resources Mentioned
Service Business Edge, now falls under:
Service Business Growth Intensive
844-273-BOOM (2666)
Thank you for listening! If you enjoyed this podcast, please subscribe and leave a 5-star rating and review in Apple Podcast