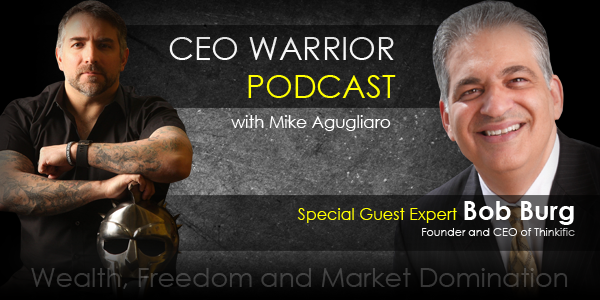 Summary:
In this week's episode of The CEO Warrior Podcast, Mike Agugliaro interviews Bob Burg, who is the author of Go-Giver.  During this episode, Mike and Bob discuss The 5 Laws of Success, selling, the 5 Elements of Value, buyer's remorse, and the benefits of referred customers.
Main Questions Asked:
Talk about the 5 Laws of Success.
How do you know when you have exceeded the value?
Is buyer's remorse where the perceived value has worn off quickly?
How do you increase referrals, and what are the best practices?
Why is influence sometimes seen as a dirty word?
How do you train employees and teams on influence?
What are the roadblocks with authenticity?
Key Lessons Learned:
Shifting Focus From 'Getting' to 'Giving'
Giving is constantly and consistently providing value to others.
No one will do business with you because you need the money, have a quota to meet, or even if you believe you have the best service.
People will do business with you because they feel they are better off by doing so.
By discovering the customer's wants and needs, you will be in a position for the sale and relationship to take place.
The 5 Laws of Success
1. Value
Your true worth is determined by how much more you give in value than you take in payment.
There is a difference between price and value.
Price is a finite dollar amount.
Value is the relative worth or desirability of a thing to the end user. This is subjective.
Value is always in the eyes of the beholder.
Money is the echo of value.
People exchange their money for that which they feel is of greater value. Otherwise, they wouldn't do it.
Value only starts with the sale.
Selling
To understand value, you also need to understand what selling is and isn't.
Most people think of selling as something you do 'to' someone, not something you do 'for' someone.
This can be defined by what the other person wants, needs, and desires, and helping them to get it.
What someone wants, needs, or desires comes down to value.
Every decision someone makes is based on what they believe will bring them closer to happiness.
Tie the benefits of your service into what will make the customer happy.
The sales system is the process of predictably, achieving a goal based on a logical and specific set of how to principals.
Price
When you sell on price, you are a commodity.
When you sell on value, you are a resource.
5 Elements of Value
i) Excellence
ii) Consistency
iii) Attention to empathy
iv) Appreciation
When you communicate the above in every single touch point, you have taken price out of the equation and developed a personal walking ambassador.
Buyer's Remorse
This is where the perceived value has worn off quickly.
This is also the result of being sold emotionally and not brought back to a logical understanding.
2. Compensation
How many lives will you impact?
Your income is determined by how many people you serve and how well you serve them.
The more people whose lives you touch with the exceptional value, the more money you will be rewarded.
Benefits of Referred Prospects
These customers bring with them many benefits.
You are working on borrowed influence and trust, where price is less of an issue.
It is easier to complete the transaction or close the sale, as you are tapping into vicarious experience.
Referred prospects are already of the mindset that you do business through referrals.
3. Influence
It's not about us; it's about them.
Your influence is determined by how abundantly you place other people's interests first.
The golden rule of sales is that, if all things are equal, people will do business with and refer business to those they know like and trust.
Make your win about the other person's win.
People often confuse influence with manipulation.
Influence is the ability to move a person to a desired action within the context of a specific goal.
When you persuade, it is positive, and you are doing it for the benefit of the person other than yourself.
When you manipulate, you are doing it only with your own interest in mind.
4. Authenticity
The most valuable gift you have to offer is yourself.
When people don't show up authentically, it is more often the result of them not having the self-confidence to do so and not having a genuine understanding of the value they bring to others.
We all have market value. This is the combination of strengths, talents, and characteristics that allow you to bring value to the marketplace in such a way you will be compensated for that.
Adopt others' wisdom, but don't adopt their personality.
5. Receptivity
The key to affective giving is to stay open to receiving.
In a market-based economy, you are only able to receive to the degree that you give value to others.
Thank you for listening! If you enjoyed this podcast, please subscribe and leave a 5 star rating and review in iTunes!
Links to Resources Mentioned
Go-Giver (book)
Click to Tweet
What does it take to develop a personal walking ambassador? Find out w/ @bobburg @CEOwarrior https://ceowarrior.com
What are the The 5 laws of success? Find out w/ @bobburg @CEOwarrior https://ceowarrior.com
P.S. – Seize SUCCESS today! Subscribe to HomeServiceMAX to see how the pros do it.

P.S.S. – Dustin feels his $2 Million can be a $10 Million business!