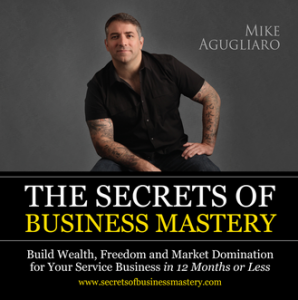 If you don't have my first book yet…now is the time to get it – ON CD!
If you feel you are running on empty and struggling with your service business, THIS AUDIO CD is for you!
In The Secrets of Business Mastery, I reveal how you can take charge of your business, dominate your market, and achieve the kind of dramatic results that you've only dreamed of.
You'll discover powerful secrets like:
My game-changing transformational approach to service and how it brings in a flood of higher-paying customers.
The exact step-by-step market domination strategies (and my proprietary checklist) to massively increase the effectiveness of every marketing campaign.
A surprising new way to approach your finances to make more money and put more profit in your pocket.
My time-saving way to find the best employees, and the technologies I use to empower my team.
Plus hundreds of other proven strategies and actions to implement into your business immediately.
I will reveal my $28 million dollar Fast Track Academy to transform your business and achieve wealth and freedom. I lay out, step-by-step, exactly what you need to do daily in 12 areas of your business to take it to the next level.
Mike Agugliaro
P.S. If you want to learn about all 3 of my books…CLICK HERE!