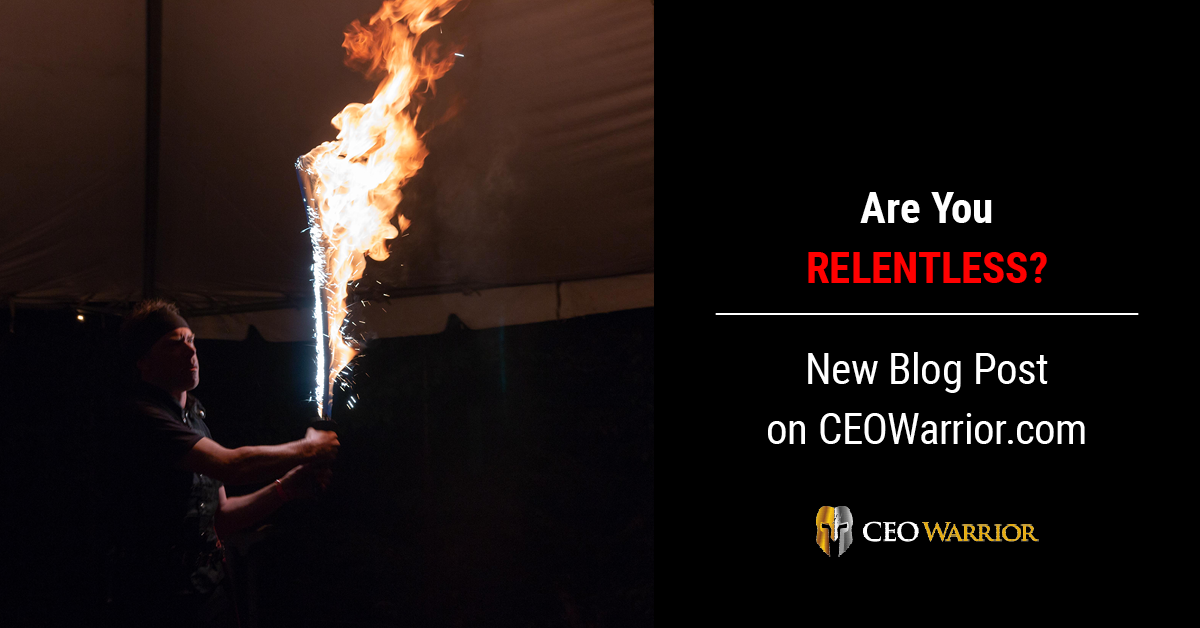 Last week, more than 60 of our Warrior Circle and Warrior Centurions descended upon the CEO Warrior Headquarters in East Brunswick NJ to discover one thing:
How to be relentless.
Now, to the outside world, that might sound weird. "Relentless?" Someone might ask. "Why is that important?"
Well, in a moment you'll learn why but first I'll share…
There Was A Secret Event Happening Last Week At The CEO Warrior Headquarters
Last week (May 15-17, 2018) was an exclusive Warrior-only event at our headquarters.
This Warrior-only event is called "Relentless" and it's totally different than our Service Business Edge events, which you might be more familiar with.
Service Business Edge is a public event where service business owners learn a ton of strategies to help them grow their business. But after attending Service Business Edge, many business owners want more, so they join the Warrior Circle and become Warriors, which allows them access to these exclusive Warrior events.
… and if you thought our Service Business Edge events were intense, you should see what our Warrior events are like!
Think of it this way: Service Business Edge is 4 days of playing full out but there are many different business owners from all levels of business. But at a Warrior event, these are WARRIORS – the highest level of business owner who works daily to crush their business and rise victorious. Warriors are action-takers who are continually upgrading themselves and learning how to become better.
So, it's probably not surprising that our Warrior events are VERY powerful, life-changing events in high demand among those who are allowed to come.
I can share some pictures of the event, below, but this is only a small part of the full experience—I hope you get to participate someday!
… and that leads me to the question I posed earlier in this post: are you relentless?
Here's Why "Relentlessness" Is The Most Important Quality
Most people might not think of being relentless as a quality that you need. However, being relentless is one of the most important qualities you need if you want to achieve your goals in business.
Here's why:
Being relentless means reaching beyond what you think you are capable doing to reach for even more instead of doing what most people do: only grasping what they think is possible, which is often less than they want or deserve)

Being relentless means tapping into all your resources to get more wealth, freedom, and market domination (instead of doing what most people do: just the bare minimum)

Being relentless means you see things through to the very end (instead of doing what most people do: stopping short of the goal)

Being relentless means embracing the challenges and pushing through the obstacles (instead of doing what most people do: feeling overcome by the challenges and obstacles)
While others are hoping for luck, skill, or some "silver bullet" to get them where they need to go, there is only one quality that will outpace everything else, and that is being relentless.
While others are being swayed by complacency, laziness, small-minded goals, or obstacles, the ones who are winning at business and life are those who push with relentless persistence to get through.
Remember this: When you encounter obstacles or challenges, that's just life testing you to see how badly you want something.
Being relentless is the proof that you give back to life that you want something bad enough.
How To Be Relentless
If you want to be relentless, it's simple:
Set higher goals

Improve your focus so that you give more to each moment

Eliminate procrastination—dive right into things

Push harder than ever before

Stick with a challenge until it is resolved

When you encounter a challenge, double down on how relentless you are to get through it
When you get tired and are ready to give up, that's when you have to remind yourself: this is the moment where unsuccessful people quit and successful people step up and get things done.
If you work on only one thing in life, it should be to improve how relentless you are. When you become more relentless, anything is possible.