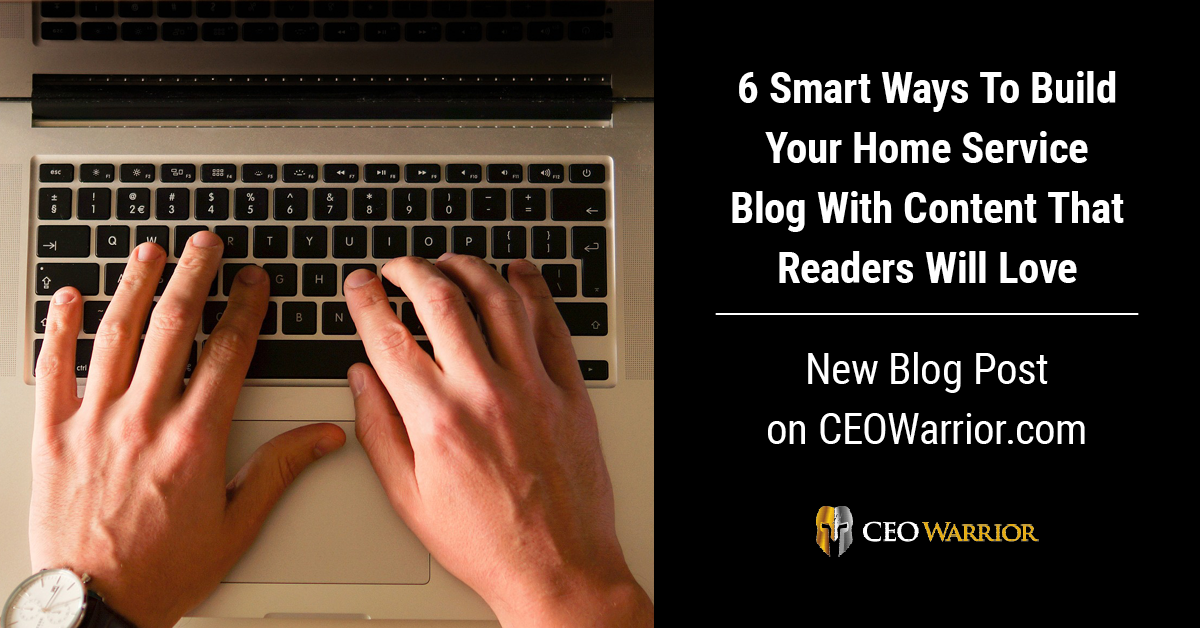 Does your home service business website have a blog? I hope so. And, if so, do you know how to build your blog?
Most people know what blogs are but just in case you don't, you're reading one right now. It's a publication of content with the newest content at the top and the oldest content at the bottom.
Customers AND Search engines love blogs because they're full of fresh, interesting content…
… Or at least they're supposed to be.
Unfortunately, a lot of home service businesses neglect their blog because they're busy doing other things and they don't always immediately see the value of a blog.
Why You Want A Home Service Blog
Customers love blogs when they are filled with engaging content, and they'll keep coming back to your blog to read more… which means, if customers are on your site then they are seeing your offers!
Search engines love blogs and search engines will rank websites higher that have fresh, constantly updated content (which means you can get more customers to your site).
And, blogs are always a really simple place to collect information about your business—from timely tips that you want to share with your readers, to news articles or news segments that you appear in, to public relations content about your company.
Simply put, blogs are a simple way to generate traffic—and leads.
Unfortunately, it's not always easy to come up with content for your blog. That's why I'm sharing this list of content ideas for you to fill your blog with…

#1. Lists.
 Share checklists of things people can do each season, or lists of the top things that people should watch for to know what's wrong with their HVAC system. You don't even have to write only about home services; why not share a list of your favorite restaurants, or a list of the movies that everyone in your company loves to watch.
#2. Product reviews.
 Go into your warehouse and review a product that you sell to your customers. For example, why not review an HVAC system or a whole home generator. Or, better yet, have your customers review the products they've bought and post those.

#3. Meet the team. 
Your customers feel more comfortable letting a stranger in their home when they feel like they know the person. You can help this by interviewing your team members and sharing the video and transcription in a blog post. Interview each team member, whether the customer will ever meet that person or not. Make sure you give out the links to the interview blog post when you email a customer to let them know an expert is on the way.
#4. Questions and answers.
Your customers have questions. Chances are, you have an FAQ section on your site. But there are likely other questions you get all the time that don't make it into your FAQ section. Post them here instead. (Or post the question on your FAQ page and write a blog post for each answer, linking the FAQ page question to the specific blog post answer).
#5. Image posts.
People love looking at pictures (just consider the popularity of Instagram!). Not only that, the old adage, "a picture paints a thousand words" is as true now as it ever was. Sometimes an entire post can be based on one or more images. Some image post ideas include: pictures of before and after HVAC installs or duct cleaning; images of your office (especially if you do something fun like dress up for Halloween), images of customers and their homes when they've purchased something, or even user-submitted images such as "What are you doing for the Fourth Of July"?
#6. Reporting.
Don't just think of your blog as a place to post information for customers about their homes. Consider reporting on things such as: events that impact your customers. Maybe there's a conference that you go to about water filtration, or perhaps your city is holding an event about water quality, or maybe there's a major storm moving into the area. You can give a report of these events—either through text or video—to inform your customers.
Summary
Of course you should post all the regular stuff that you normally post, from timely tips to ways to improve the value of their home: anything that customers care about! But sometimes it's hard to keep your content fresh and interesting, so use these ideas to inspire you to post great, engaging content regularly to keep your customers coming back for more.