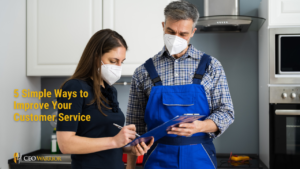 You can't run a plumbing, electrical, or heating and air business without customers. But once you've got them, you've also got to take care of them—or you might lose them.
It's easy to get caught up in the process of generating leads and getting people to buy your services. But once you get customers, if you take great care of them, you'll not only keep those customers, but you'll generate more leads, take on more customers, and make more money.
Imagine your business a year from now. Can you see yourself with a huge customer base, a larger portfolio of services, and a great team of employees? Can you imagine your business being more profitable than it is now? Can you see yourself having the freedom you don't have at the moment? Customer service is one of the keys to all of these things.
Maybe it's time for an assessment. If you see some lacking areas, it's not difficult to make a few adjustments and improve customer service. Try some of these tricks.
Put a friendly face on your business.
Service business owners rely on getting the phone to ring. Even if you only make appointments online or over the phone, you don't have to be impersonal. Put an address on your website so people will know you're local. Have a live person answering the phone, whether it's a receptionist, one of your team members, or yourself, when customers call. When you meet with customers in person, always smile and greet them. Don't be afraid to get to know them online, in person, over the phone, or through social media interactions.
Make yourself available and approachable.
There are probably several other plumbers, electricians, or HVAC technicians in your area. You can set yourself apart by showing personalized care. Make sure whoever takes phone calls is experienced with scheduling house calls. Let anyone who talks to customers listen to their needs and decide how best to help them. Use mystery shoppers to check on your team's phone etiquette—mystery shoppers can make sure anyone who answers the phone at your business sticks to the script or bullet points you've provided them.
Be an expert.
Make sure your customers know how well you know your business. Show enthusiasm about the work you do when you talk to customers about how you can help them. Answer questions on LinkedIn, Facebook, or your own website. Be willing to admit if you don't know the answer to a question, but offer to do some research.
Offer specials.
Build loyalty to your company by offering packages with discounted services. Occasionally hold promotions like buy one get one free. Team up with another company that offers a different service, and offer a combo deal at a special rate. People love to feel like they're getting a good deal, and they'll be more likely to use your service the first time, and then again, if they feel like they've scored a bargain.
Reward your employees.
These are the guys helping bring work into the company and keep customers satisfied, so keep them satisfied too. Let them figure out the best way to help a customer—you're sure to see them exceed your expectations. When they go above and beyond, reward them with a small gift or award.
Great customer service does a couple of things: it helps you retain your existing customer base. It also helps drive more traffic to your business, through word of mouth and through the Internet.
Customer service is a huge key, but that's not the only way to achieve business mastery. Contact CEO Warrior and see how else I can help you achieve the freedom you've always dreamed of!
Has success been elusive and you feel stuck?