It's tempting to go on cruise control for the final month of 2018 and wait until the new year to refocus, but you'll be happier with the state of your business if you finish the year out strong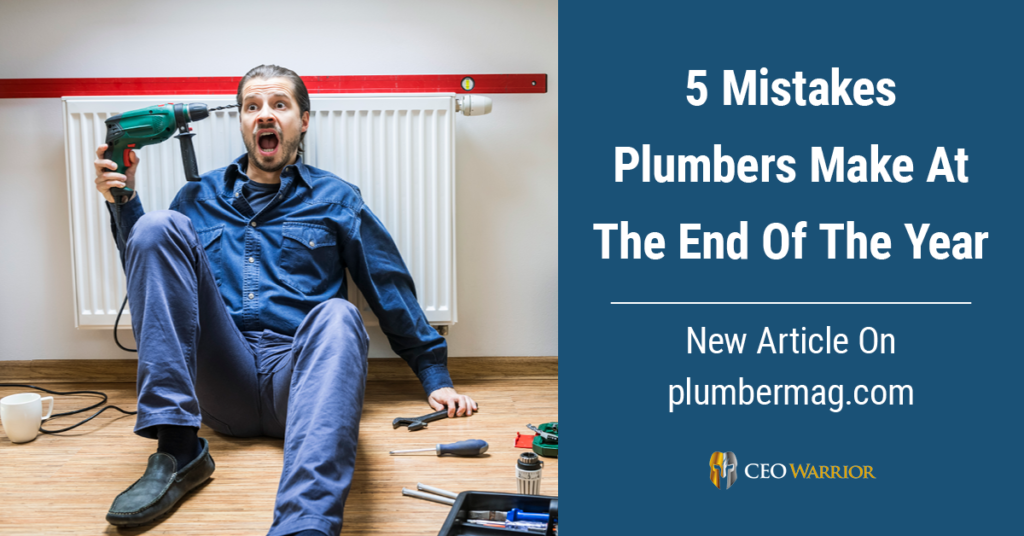 You made it through another year — 2018 is almost done and 2019 is just around the corner. Are you ready to make 2019 your best year yet?
Not so fast.
While you should be thinking ahead to 2019, many plumbers make the mistake of looking too far ahead and not spending enough time finishing up the current year. People stop paying attention to December and start working on January. It's a good thing to work ahead but not if you sacrifice your current month to do so.
End result: December turns out weaker than you expect, and your year-end sputters to a dead finish rather than finishing strong.
Here are five mistakes that plumbers make at the end of the year and what you should do instead.
Mistake No. 1. Coasting
One of the biggest mistakes is coasting. It doesn't matter if you've had a great year or a mediocre year, there is a temptation to coast. If it was a great year, it can be tempting to think, "Well, I can ease up a bit because it was such a good year." If it was a less-good year, it can be tempting to think, "Well, I'll just take it easy now and then really get going in the new year."
Action step: Accelerate. Double down on your marketing efforts and try to win as much business as you can now. Then build off that momentum next year.
Mistake No. 2. Not Showing Appreciation To Your Customers
At this time of year, do you show appreciation to your customers? Other companies are, and maybe even your competitors are. And if they are not, just imagine how much more you'll stand out if you do. Even if all you do is send a card to your customers, and perhaps a small gift to your larger customers, the token appreciation goes a long way. It's not a hassle or expense. This is the time of year when people are giving and receiving gifts, and they'll notice when you give something.
Action step: Send out a thank you note to your customers, or even a heartfelt video by email to your customers.
Mistake No. 3. Not Showing Appreciation To Your Team
Your team has worked hard all year for you. Not only that, this is also a time of year when they may be deciding whether they will stick with you next year or if some other company can help them achieve their life goals. You can remind your employees that you are the best employer for them. You don't necessarily have to give out massive financial bonuses, but you should at least take the time to thank your employees and tell them how much they mean to you.
Action step: Look at what level of appreciation you've given in the past and improve upon it. Maybe a holiday party is a good step. Or give their family a Christmas basket for the holidays.
Mistake No. 4. Unfounded Optimism
As 2018 wraps up and you go into next year are you excited about the year to come? Many business owners are, which is good. Optimism is a valuable asset. However, that optimism should be built on the reality of your ability to deliver. What are you optimistic about? Many plumbers are simply optimistic because of the possibilities of the year but they haven't established a foundation for that optimism.
Action step: Look at what you've achieved this year, set a goal to increase it, then make a plan of action steps to act on that goal. Schedule those action steps and get ready to execute. Now you have something to get really excited about.
Mistake No. 5. Failing To Learn
This one is perhaps the most common of them all: Failing to learn the lessons of the year and failing to build an intentional learning plan for next year. This past year was full of ups and downs for your company. You should look back and review those highs and lows and determine how to repeat the highs and minimize the lows in the new year. And you should build a learning plan to help you fill in the gaps next year so you are constantly improving what you know, which will have an effect on what you do throughout the year.
Action step: Look at the past year and consider what successes and failures you experienced, and ask yourself what you can do to get more successes while minimizing the failures. Furthermore, ask yourself what you need to know — what knowledge or strategies or approaches are missing — to help you get to the next level in 2019.
See the full article on PlumberMag HERE
Don't YOU want to be more influential, boost your expert status and play against the big companies?
Learn HOW at the Service Business Edge: The Secret Blueprint To Growing Your Business.