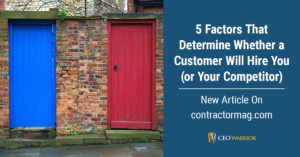 There is a critical process that every customer goes through when they hire a Contractor. If you can master one key point in this process then you'll win more jobs from more customers and dominate your market.
The process is simple, and probably no surprise to most of us (since we all experience it ourselves when we buy things).
It usually begins when a customer understands that they need or want something
Then the customer decides who to hire to fulfill it
Then the customer purchases the product or service that will address what they need or want
That generally describes the process that most customers go through, although some industries may vary the process slightly. In the Contracting industry, step 2 is made up of sub-steps that probably include the customer looking at the marketing materials of local Contractors and collecting estimates.
As a Contractor, it may feel that you have little control over this process; that it's up to the customer. However, if you understand what a customer is looking for during the decision-making process, you can shape your marketing to address what they are looking for.
Therefore, when creating marketing materials, you should be asking yourself one key question: What qualities are customers looking for when they are deciding which Contractor to hire?
I've identified 5 qualities that most customers are looking for. When you put these 5 components into every marketing piece you create, you'll win more business over your competitors who aren't including these components.