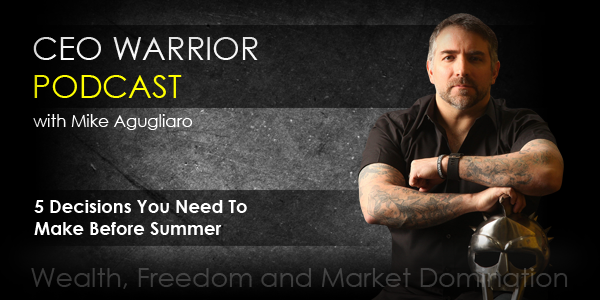 Summary:
Mike Agugliaro discusses 5 decisions you need to make before summer to prepare for the boom, as well as maximize your overall service, efficiency, and profit.
Key Lessons Learned:
Recruiting
Be prepared to lose a few employees to the "wolves". Plan ahead and make sure you will have the people you need when the time comes.
Marketing
Never stop marketing. You can dial it back but you want to always have your message advertised.

Make sure your marketing today is talking about the mindset of the future. Don't talk about how hot it is now, talk about how hot it's going to be.
Service
People will only provide the level of service they have been given or seen. It's up to you to show them what service should and could be like.
Profit
Prepare to maximize on your profit with strategies for efficiency.

Prepare for possible price increases by stocking up or negotiating with your supplier ahead of time.

Use the "top 100" technique to make sure the top 100 items your business uses are being bought at a competitive price.
Leadership
Make sure your summer plan is a springboard into the rest of the year. Not just a temporary win.

The way you do anything is the way you AND your team do everything.

No matter whatever or wherever you want to be in life, find someone who has done it successfully and learn from their habits.

Don't expect different results by repeating the same actions.

Thinking positive alone won't accomplish anything. Positive action will.

Any need or inefficiency in your business stems from something you need to be doing differently.

Reverse engineer your goals. If you can do that, you just have to follow the steps to get where you want to be.

When reading a book, get enough information and insight to take action on it and then put the book down. You don't become a better leader by reading a whole book, you become a better leader by implementing what you have learned.
Links To Resources Mentioned
Thank you for listening! If you enjoyed this podcast, please subscribe and leave a 5-star rating and review in iTunes
PS. Are you SERIOUS about no longer treading water and MOVE your business forward WARRIOR STYLE? Find out more about Mike's Warrior FAST TRACK Academy!