Owner of Best Service in Orange County, California, receives award from Mike Agugliaro's home service coaching company CEO Warrior.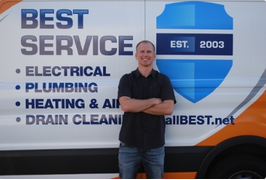 EAST BRUNSWICK, N.J., Feb. 3, 2016 /PRNewswire/ — Mike Agugliaro, founder of the home service business coaching company CEO Warrior, and co-owner of New Jersey-based $28 million residential service company, Gold Medal Service, has named Brian Vardiman, owner and CEO of Best Service, the 2015 Warrior of the Year. With this award, Agugliaro gives recognition to exceptional home service business owners who are a part of the CEO Warrior program and have demonstrated remarkable business and personal growth in the last year.
"Brian received numerous nominations for the award based on what he has achieved in such a short period of time," said Agugliaro. "He worked closely with the CEO Warrior network of master coaches that gives business owners guidance and support to grow their businesses and live a more fulfilling life. Small things that nominees accomplish are massive things in most business owner's lives today. Brian is the perfect example of implementation, removing limiting beliefs, and taking his business to the next level. "
Vardiman founded his Brea, California-based residential electrical, plumbing, heating and air conditioning service business, Best Service, in 2003. After years of struggling, he decided to challenge himself and his business. He wanted to dominate his market and build a home service empire, but he didn't know how to do it.
"I decided to attend two Warrior Events with Mike Agugliaro in 2015, and then implemented massive improvements," said Vardiman. "My home service business has grown from a company with only two service trucks in 2014, to seven trucks in 2015. And I already ordered two more trucks for this year."
Best Service doubled its revenue growth in 2015 compared to the previous year. Vardiman attributes this growth to various changes he made to the business, which include:
Expanding his business service offering from electrical-only to plumbing, heating and air conditioning
Hiring better skilled and motivated employees
Starting an outbound program
Implementing better technology
Rebranding the company, building a new website and creating all new marketing materials
"In 2015 I managed to remove all of my fears and limiting beliefs which were holding me back," says Vardiman. "My finances are healthy for the first time since I've been in business. The only people, besides my wife, who would believe all these accomplishments are possible, are other CEO warriors."
To find out more about CEO Warrior events and its network of master coaches, visit www.ceowarrior.com. To learn more about Best Service visit https://www.callbest.net/.
About Best Service

Best Service has been providing services to Orange County and the surrounding areas for more than a decade. Specializing in residential electrical, plumbing, heating and air conditioning work, all of the company's technicians are licensed, professionally trained, and have extensive experience. Best Service offers a 100% customer satisfaction guarantee and is available 24 hours a day, seven days a week. To find out more, call 714-400-BEST or visit callbest.net.