As My Thanks To You, Claim Your Instant Access To My "Never Released" Action Guide For Service Businesses!
Download your 100% free copy of  "STOP PUTTING OUT FIRES: 4 Strategies To Eliminate Daily Problems So You Can Focus On Business Growth" and discover what "they" are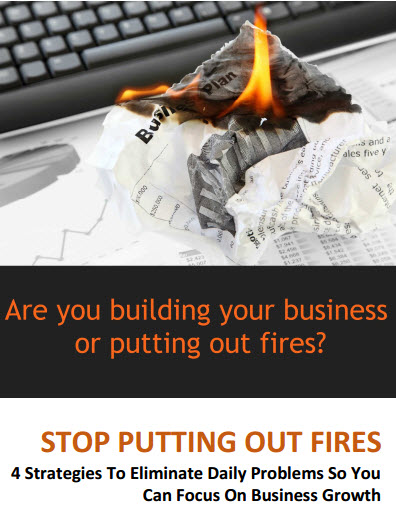 not telling you, including:
• Shake off those old definitions about yourself that are holding you back and adopt a new, proactive "Warrior" attitude about how to live your life;
• Transform your business so the "problems" that have held you back up until now, never happen more than twice, ever again (instead of day-in and day-out like now)
• Start seeing problems as opportunities – when your employee calls off or your customer yells, embrace a formula to transform these problems into revenue and profits;
• Approach these "opportunities" by looking at them in a new way that you've probably never seen before, only because up until now, nobody ever showed you how to look at them;
• And much, much more!
Just enter your name and e-mail address and you will immediately receive your free action guide!