As you may have seen yesterday,   I outlined some of the fundamental outcomes you will gain through our new "9 Pillars of Business Mastery" course….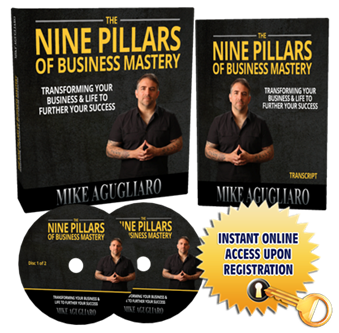 …..the first-of-its-kind to provide such deep insights into how you can, transform your service business and life to further your success.
Since the doors open this week (on Thursday), I want to get into the content of the course in terms of some of the outcomes…
The Tools, Techniques, and Nuts-And-Bolts "How-To" You'll Gain.
Those of you who participated in my recent community poll confirmed that you very much want to discover more about the following:
• Optimized Skillset – find out where you need help and how to get that help from the RIGHT people who can mentor and coach you
• Ultra Clarity – gain a step-by-step process becoming clear on what the future looks like for your business and life (though this has been around for years, I'm AMAZED how many people still don't know about it)
• Critical Alignment (WITHOUT a Strategic Plan) – discover how to get the energy of the market aligned with you without a 10-point plan or a "funnel"
• Managing Success – see how you can get more out of your team meetings – WITHOUT even needing to be there
• Radical Accountability – master the key ingredient you must add to the stew BEFORE you start doing calls with your "accountability buddy" or mastermind group
• "When The Clock Strikes Five" – make the culture shift that has people still hanging around and strategizing to grow your business after 5, instead of lining up to punch out at 4:55
• Put The Cell Phone Away – stop the need for texting and returning calls while you're kids are around or you're trying to spend quality time with those you love
My promise to you: in less than 90 minutes from the moment you claim your access Thursday, you will have all these things, and more.
Because it will be instant online access.
I Will Show You How To Become A Master Of Your Business
Just imagine:
• Getting to work in the morning and knowing EXACTLY what you want to do in the day… confident that you'll accomplish as much as you expect and it will contribute to your business' growth.
• Having a moment to breathe throughout the day – never resting lazily (of course) but just pacing yourself through the day and optimizing your level of creative contribution, regardless of what business you're in or how many employees you're overseeing.
• Having a vision for your business for the next 5, 10, and 25 years that is clear, and most importantly, thrilling for you. You can't wait to achieve those things… and you have a crystal-clear plan to do it.
I'll show you the path to all those things – and more.
Seeing what you will be getting, you may find yourself asking:
How Much More Success In Your Service Business Will You Experience With These New "Power-Tools" At Your Disposal!
As I'm sharing all the ways this course will really benefit you, I just want to say, I'm sure you'll agree that it's important that only happens in a way that feels good and right for you, because you can imagine benefiting from this for all your own reasons.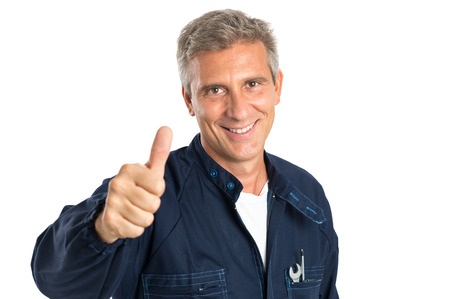 So please, ask for anything that supports you in that.
If you prefer a private conversation, e-mail me at mikea@ceowarrior.com.
Get ready!
Mike Agugliaro
Business Warrior
P.S. – This course is jam-packed with valuable ideas, tips, strategies, and short cuts that you can immediately apply to your life and business to go – from "mastered" to MASTER.
It's time to transform yourself and become the MASTER of your business by implementing the 9 Pillars.
And the best news is: that's less than 48 hours away!
P.P.S. – Even better than best: it's an instant download. You won't be waiting more than, say, 38 seconds to dive right in!